Transmedia: Bloody good business? Part 1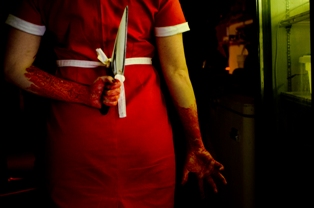 By Jeff Sanford
There was a time when making a TV show or film only meant one thing: making a TV show or film.
Then came convergence, cross-platform, transmedia and now multi-platform, all of which to varying degrees encapsulate storytelling across mediums.
These trends are not that old. But they have profoundly affected the way content creators do business.
When YouTube launched and platforms expanded, it looked like cross-platform storytelling would be the new and golden future of the industry. Global markets would be tapped, multiple revenue streams accessed. A new digital era would dawn.
Many years in, it's time to ask: has transmedia so far fulfilled its early promise?
For Canadian production companies large and small, transmedia and multi-platform content creation has opened doors to new financing opportunities, new markets, different audiences, broadened skill sets, new ways to self-market projects and, most importantly, more stuff to sell.
What it has largely not meant, currently, is heaps of new money.
But is that fair criticism of an industry that is essentially still in startup mode?
Much of the perceived value of transmedia currently lies in targeting niche, under-served audiences, fan groups, and digital savvy young people – "cord-nevers" who discover content through digital sources and may (or may not) end up at broadcast. Quite clearly, this is a demo requiring a whole new approach to engagement.
In 2008, Toronto-based Shaftesbury acquired Smokebomb Media, a digital prodco founded and created in 2007 by Daniel Dales and Jarrett Sherman. The company was subsequently incorporated as Smokebomb Entertainment Inc. and almost six years later, the division is poised to be profitable in 2014, with revenue growing more than tenfold since the company was founded, says Shaftesbury CEO Christina Jennings.
Transmedia has not been an easy space to do business in, she notes. The market is smaller than traditional broadcast and the restrictions of technology mean that digital elements may not fit the platform a foreign media company has in place. And licence fees and production budgets are smaller, making it difficult to achieve the broadcast quality audiences have come to expect.
Despite this, Jennings says it's a place Shaftesbury felt – and feels – it has to be.
"Thirty-five percent of Canadians say they would rather give up their TV than their smartphone, so we believe that audience and advertiser demand for transmedia content is growing," says Jennings. "The work we are doing now will help position us to lead in this space."
Smokebomb is "hyper-focused" on two groups, tweens (ages 8 to 12), and under-30s.
"Those are our two sweet spots," says Jennings. "TV is still the main space. But when I look at the habits of those audiences, this is where we need to be," she adds.
A Canadian multi-platform pioneer – Shaftesbury gained awards and international attention in the mid-Oughts for its ReGenesis augmented reality extension – the company is continuing to push transmedia boundaries. It is currently working with the CFC's Mind Pirate/IdeaBOOST lab to launch a Google Glass transmedia app for its State of Syn web series (see pages 24-25) this spring and is in talks with U.S. network The CW to extend its transmedia-oriented Backpackers series – a web series with an app extension that allows viewers to choose different paths for the series' characters – into the broadcast realm.
Edmonton-based production company Mosaic Entertainment isn't looking to reinvent the wheel with its transmedia/cross-platform-based strategies, but it has put them front and centre, says Eric Rebalkin, executive producer, Mosaic.
"For us, transmedia has become core to the business," he says. "Television is now a minor piece of the puzzle, rather than the major piece."
The company, which has over 30 scripted feature films, TV series and web series to its credit, is currently in-market with Tiny Plastic Men, a half-hour comedy on Super Channel.
The $1.8 million production, licensed for $300,000, is accompanied by transmedia extensions such as a web series and character-authored Twitter account, and is planning to extend the franchise further with a line of collectibles. The Tiny Plastic Men world also has a revenue-generating mobile app, Kitten Assassin, built on a freemium model in which players can upgrade options for .99.
These extensions also function as marketing tools for Tiny Plastic Men, says Rebalkin, specifically because of its home on pay TV. Webisodes offer an entry point for fans who don't subscribe to Super Channel, but may get into the series through later windows, such as an SVOD service like Netflix.
In Canada, he notes, where government and third-party funding drives transmedia/multi-platform production, the addition of digital creates a more revenue-friendly picture.
Whereas a typical television show will boast a financing ratio of approximately two parts subsidy to one part private funds, the variety of funding programs for digital media production mean a ratio of up to 7:1, subsidy to licence fee, which means the broadcaster spends less and the production budget is higher
"The broadcaster gets the best of both worlds – content on two or more platforms with a reduced licence fee, but a bigger budget than what TV could do alone," explains Rebalkin.
As an example of production efficiencies that can be gained with a little transmedia creativity, Rebalkin cites Mosaic's latest production, the $150,000 comedy-horror Truckstop Bloodsuckers (pictured). A "prequel" storyline debuted on Blue Ant Media's Bite channel, followed by a web series on Bite.ca and finally, an indie film, all developed out of principal photography.
Had the company shot only the TV segment for Bite, the budget would have only been $50,000, Rebalkin notes, but "working on the online delivery first and then developing the feature out of that, we tripled our budget," he explains.
"We didn't have to shoot extra material to make the feature; essentially we just connected all the webisodes together. The real winner for us is that we got the feature made with no equity. This is almost unheard of in Canada, and we have the rights to exploit it to the rest of the world. This is a model that we pioneered and plan to continue expanding."
[Part 2 to follow]
CORRECTION: In the print and original version of this article, Smokebomb was incorrectly identified as being founded by Shaftesbury in 2005; in fact, the company was founded in 2007 by Daniel Dales and Jarrett Sherman and acquired by Shaftesbury in 2008.
Photo by Hailey Nordstrom