Epic Meal Show to debut on A+E's FYI channel
The cult-favourite YouTube series is headed to broadcast on the new U.S. channel, which replaces Bio this summer.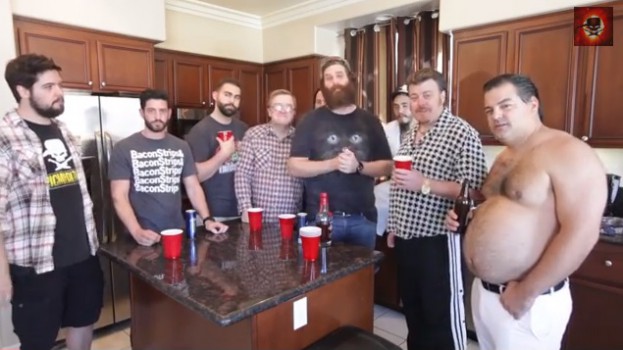 Canadian YouTube sensation Epic Meal Time is getting its just desserts with a slot on A+E's new factual channel FYI, debuting this summer.
With a working title of The Epic Meal Show, the 16 x 30-minute series will feature YouTube star Harley Morenstein - aka 'The Sauce Boss' – and his kitchen crew, who promise to deliver "recipes that are visually mind-blowing spins on food preparation and presentation," according to the network.
The series is by The Collective and Nexttime Productions, and the executive producers for FYI are Gena McCarthy, Liz Fine and Audra Smith.
Epic Meal Time was launched in Montreal in 2010 and quickly gained a huge YouTube following, which currently numbers over six million subscribers. Its most recent episode featured a Trailer Park Boys theme, with the series' stars shopping and cooking in character.
The Epic Meal announcement was included in A+E's unveiling of its first six original series and two pilots.
Of the launch, Jana Bennett, president of FYI and LMN, said: "FYI is scouring the globe for new talent and partnering with the industry's top producers to commission thought-provoking and inspirational lifestyle content."
Elsewhere on the channel, The Feed (w/t) is a 6 x 60-minutes series produced by Giant Pirates, which is billed as being part road-show, part buddy comedy, and part talk-show.
It features three hosts: Top Chef  judge Gail Simmons; The Taste judge Marcus Samuelsson; and comedian and food-blogger Max Silvestri – anchor "a rollicking adventure into the creative world of cooking, food trends and food culture in America."
Samuelsson and Simmons also serve as EPs, as do McCarthy and Lauren Wohl for the network, while Ross Jacobson and Troy Searer are exec producers for Giant Pirates.
Among the other titles on the launch slate, World Food Championships is a 6 x one-hour Las Vegas-set series from Sharp Entertainment, in which home cooks and professional chefs from across the U.S. compete to create dishes for a shot at a US$50,000 grand prize; while the tentatively titled Tiny House Nation is a 10 x one-hour series celebrating the boom tiny houses.
Produced by Loud TV, viewers will meet a different family in each episode as an expert host and team of tiny house builders helps the family design and construct a new mini-dream home no larger than 300 sq feet.
Finally, Jane Street Entertainment's Renovation Row (w/t, 10 x 60-minutes) follows three teams – ranging from first-time home-buyers to talented renovation experts – as they battle to transform three identical urban homes in a bid to win a grand prize; while B.O.R.N. to Style, a 10 x 60-minutes series from Left/Right, is a lifestyle makeover series centering on a makeover team from New York, and their larger than life boss Jonathan Bodrick.
In addition to the series, FYI also has two half-hour pilots in development. The tentatively titled Jennifer's Way, from Atlas Media, and Red Hot Design, from Toronto-based Cineflix Productions.
Jennifer's Way follows Jennifer Esposito, an actor-turned-entrepreneur and advocate for Celiac disease, as she strives to expand her gluten-free bakery, Jennifer's Way, from a single storefront in New York to an empire across the country.
Red Hot Design, meanwhile, follows Shasta Smith, a self-styled queen of upscaling. Smith and her crew take unusual and unique materials – from motorcycle hubcaps to airplane wings – and transform them into upscale pieces of furniture and artwork for their clients.
From Realscreen