Sandra Cunningham receives Doug Dales Award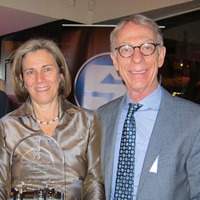 Veteran producer Sandra Cunningham was feted during the Prime Time conference in Ottawa with the Douglas James Dales Industry Builder Award.
The tribute for the Strada Films president from PS Production Services followed a long partnership between Cunningham and the late Doug Dales.
"PS is proud to present this award to such a distinguished and deserving producer who over the course of her career has done so much to enhance the fortunes and success of the Canadian feature film production industry" said Rob Sim, president and CEO of the SIM Group of Companies, which owns and operates PS, in a statement.
Cunningham's film credits include Mary Harron's Moth Diaries, John L'Ecuyer's Curtis's Charm, Atom Egoyan's Ararat, Jeremy Podeswa's Fugitive Pieces and Robert Lepage's Possible Worlds.
"He (Dales) was a mentor to me and indeed helped launch a generation of filmmakers in this country," said Cunningham in her own statement.
Past recipients of the Doug Dales award include Linda Schuyler, Ira Levy, Stephen Ellis, Robin Cass and Paul Pope.