Cross-channel promotion pays off for 19-2
Bell Media specialty programming director Rachel Goldstein-Cuoto discusses how sampling on CTV influenced the show's overnight and seven-day ratings.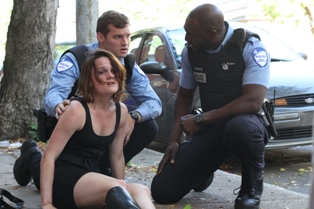 When overnight ratings for the second episode of Bravo's 19-2 police drama came out, there was likely a few moments of panic in the Bell Media offices.
Premiering on Bravo to 139,000 viewers (overnight), the series saw an alarming dip to 76,000 on its overnight Bravo ratings the week after.
Such a big drop begged the question: did viewers perhaps lose track of the drama as it premiered on specialty, encored on CTV and then went back to Bravo for the following week?
After all, when 19-2 debuted on Bravo, another 870,000 Canadians sampled the debut of the English-language adaptation of the popular Quebec cop drama of the same name on CTV. That conventional TV bow for 19-2 on Thursday night was the most-watched Canadian drama debut on CTV since Motive in February 2013. Following that success, CTV added another encore viewing for 19-2's second episode as well.
The second-episode overnight ratings on Bravo sparked initial concern, but the seven-day ratings proved much higher, with 150,000 viewers in total catching up over the week, explains Rachel Goldstein-Cuoto, director of specialty programming, Bell Media. The series then went on to 178,000 viewers (overnight) for its third episode and 118,000 viewers (overnight) for its fourth, which aired on Feb. 19. (All ratings 2+.)
"Yeah, you get a little worried," she says. "But… we still look a lot at the overnights and I think that as we go forward, we have to move into looking more at final numbers. The episode did fine, it did great, and it stayed up there."
"Especially for a show like 19-2, which is so nuanced – it's a quiet show, it builds on itself, it's an amazing opportunity for this particular show to have that kind of exposure on both episodes," she adds.
The one-hour Montreal-made drama is based on two unwilling partners of the Montréal Police Department, thrown together after the death of one officer's partner.
Produced by Sphere Media Plus and Echo Media, 19-2 stars Jared Keeso and Adrian Holmes.
When asked whether the specialty team was concerned the Bravo "ownership" of the show would be compromised by its CTV run, Goldstein-Cuoto says it's all for the greater good.
"It was a branded slot, so it was a heavy push to Bravo during the airings. I mean, programmers get a little territorial – don't touch my show!," she says with a laugh. "But we overcome that internally if it's a benefit to the show."
19-2 airs on Wednesday nights at 9 p.m. on Bravo.
With files from Etan Vlessing and Katie Bailey