Behind the shots: Mr. X and Pompeii
From our print issue: Toronto-based VFX shop Mr. X brings ancient Italy to life for the 3D action film, which opened this weekend. (Updated with worldwide box office results.)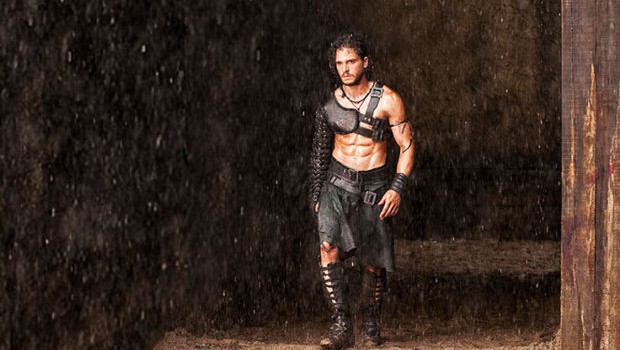 It's Mr. X's biggest-ever job since its inception in 2001, and likely among the most ambitious any Canadian FX shop has tackled. The Toronto-based company helped re-create ancient Italy and the AD 79 explosion of Mount Vesuvius for the Canada-Germany copro Pompeii, which shot last year in Toronto.
The 3D action flick – with an estimated budget of $90 million – tells the story of Milo (Kit Harrington), a gladiator-slave who battles in the Pompeii amphitheater when the nearby volcano explodes, sending the city's inhabitants scurrying.
It is produced by Don Carmody along with Robert Kulzer of Munich-based Constantin Film and directed by Paul W.S. Anderson, the force behind the Resident Evil franchise. Dennis Berardi, president, Mr. X, has served as visual-effects supervisor on the Evil films and fills the same role on Pompeii, helped by a crew of 190 digital artists, technicians, programmers and coordinators.
Carmody and Kulzer found a formula for efficiently incorporating big-time effects working with Mr. X on the Resident Evil movies, Silent Hill and The Mortal Instruments: City of Bones. According to Carmody, 20% of Pompeii's budget went to the VFX work, which is higher than usual for his films because of the numerous digital backgrounds and substantial water work. "We've been making movies with amazing production values for good dollars," he tells Playback. "[Mr. X] did a spectacular job – world class as usual."
And Mr. X isn't the only shop buzzing. A 2013 Nordicity report shows the Canadian VFX industry on the rise over the past five years. According to the report, in 2011 $435 million was spent in Canada on VFX services, a 67% increase over 2009. The majority of that growth occurred in B.C., which recorded 52% of VFX expenditures among Canadian production centres in 2011, followed by Ontario and Quebec with 24% each.
More recently, Canadians and Canadian VFX shops were nominated for work on 10 projects at the 12th Annual Visual Effects Society Awards, including The Borgias, Game of Thrones, Gravity, The Croods, Elysium and Iron Man 3.
For Pompeii, which opened on Feb. 21 in Canada through eOne, Mr. X contributed to 475 shots, working for 14 months. It animated an opening montage of the plaster casts of victims buried in the volcano's pyroclastic flow as well as every shot of Vesuvius, including its climactic eruption.
"The top third of the mountain blew off, creating this huge amount of energy and matter that rolled down the mountain," Berardi explains. "The volumetric complexity and rendering of those shots – some of which are 20 to 30 seconds long – is the equivalent of 50 shots of average complexity. And [for 3D] we're rendering for the left eye and the right eye, so that doubles the frame times."
Mr. X digitally re-created the complete ancient city. The production constructed an amphitheatre set that could accommodate 500 extras for medium shots and close-ups, but for wider views, Mr. X digitally extended the set and doubled the extras. The shop enlisted Vancouver's Scanline VFX to help with water work, including a tidal wave sequence. Toronto's Soho VFX assisted with amphitheatre shots, while Spin VFX contributed several shots overall.
According to Rentrak worldwide box office results for weekend of Feb. 23, 2014, Pompeii opened to third spot overall for the weekend, with $10 million at the U.S. box office and $22.8 million internationally, for a worldwide total of $32.8 million.
Pompeii was shot at Cinespace Film Studios in Toronto.