APTN, OMNI greenlight season two of Mohawk Girls
The series' two abbreviated seasons will run back-to-back this fall on both channels in multiple languages.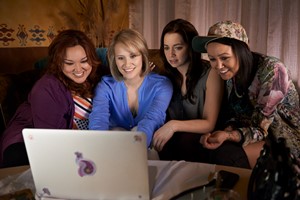 The Aboriginal Peoples Television Network (APTN) and Rogers' OMNI Television have greenlit a second, six-episode run of original dramedy Mohawk Girls, to air on both channels this fall.
The two abbreviated seasons will run back-to-back, a strategy meant to foster viewer engagement, Christina Fon, executive producer and producer of Rezolution Pictures, told Playback Daily. The first season of the show, shot last spring, includes seven half-hour episodes.
"We're calling it season one and two in the sense that they are produced at different times, but the feeling of it is one season. It's just going to flow as 13 episodes," said Fon.
The second season of the show is set to start production in May, and like the first season, will be shot primarily in the Kahnawake Mohawk Territory in Quebec. Some scenes will also be shot in Montreal.
The dramedy follows the lives of four 20-somethings as they try to determine what it means to be modern-day Mohawk women. The overarching themes of the show will hopefully resonate with a wide audience, Fon said, and Rezolution Pictures is looking to sell the show into international markets.
"It's hard to export… national comedy, but at the same time there is a lot of interest for native culture around the world," Fon said.
The series is financed by APTN, OMNI and the Canada Media Fund. It will broadcast in English on both OMNI and APTN, in Mandarin on OMNI, and in Mohawk on APTN. The budget for the first season was about $4.2 million, said Fon, and roughly $3.5 million for the second season.
"Our multilingual audiences are interested in aboriginal content, and greenlighting the second season reaffirms our continued commitment to telling compelling stories that resonate with our viewers," Madeline Ziniak, national VP of OMNI Television, told Playback Daily.
Mohawk Girls is executive produced and produced by Fon, Catherine Bainbridge and Linda Ludwick. Ernest Webb serves as executive producer. Cynthia Knight is the showrunner for Mohawk Girls.
Mohawk Girls was created by Tracey Deer, who also directs and executive produces. The series is based on her 2005 documentary of the same name.