Original docu-series a win for B.C.'s Knowledge Network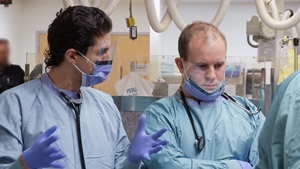 Emergency Room: Life and Death at VGH, an original docu-series from B.C's Knowledge Network, has proven to be a strong addition to the public broadcaster's lineup.
The series premiered on Tuesday, Jan. 21 at 9 p.m. and won its time slot in B.C., pulling in 192,000 viewers (BBM Canada, AA, Primetime, 2+, BC/Alberta), including PVR views.
The first episode of Emergency Room also pulled in the largest audience Knowledge Network has ever seen for the premier of a documentary series.
The unadjusted BBM ratings – without PVR views – showed the second episode of the series pulled in about 104,000 viewers, and the third episode saw an audience of 166,000, Rudy Buttignol, president and CEO of Knowledge Network, told Playback Daily.
Each episode of the six-part documentary series gives viewers a behind-the-scenes look at the operation of the Vancouver General Hospital, while examining provocative issues in health care such as dying with dignity.
Buttignol partially attributed the success of the premiere to marketing efforts that were targeted directly at the healthcare community in B.C., such as nurses unions.
"Those relationship are very deep…and that sector is very large," Buttignol said.
The series also features a significant online component, where viewers can engage in online discussions and answer online poll questions that pose yes-or-no questions on various health care issues.
Emergency Room: Life and Death at the VGH was produced by Lark Productions, and executive produced by Louise Clark and Andrew Williamson.