Cameras roll on The Girl King
Finnish director Mika Kaurismaki's film about Queen Kristina of Sweden, co-produced by Galafilm and Triptych Media, has financing from Telefilm Canada, SODEC and the OMDC. (Actors Malin Buska and Sarah Gadon pictured)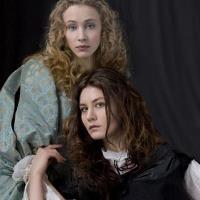 The cameras are rolling on Finnish filmmaker Mika Kaurismäki's The Girl King, which is coproduced by Triptych Media and Galafilm.
The international coproduction also has Canadian elements in Canadian actors Sarah Gadon, Lucas Bryant and François Arnaud, and Canadian screenwriter Michel Marc Bouchard and director of photography Guy Dufaux (Les invasions barbares).
The film, about Queen Kristina of Sweden, will be shot in Turku in west Finland, with additional locations in Sweden and Germany.
The film is also co-produced by Finland's Marianna Films, Germany's Starhaus Filmproduktion and Sweden's Anagram.
The Girl King has financing from Telefilm Canada, SODEC, the OMDC and The Harold Greenberg Fund.
Equinoxe Films is the Canadian distributor.