marblemedia, Jim Henson Company team up for Hi Opie!
The Canadian live action puppet series will be written, cast and shot in Toronto. (marblemedia co-CEOs Mark Bishop and Matt Hornburg pictured)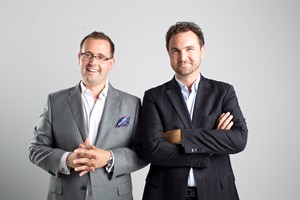 City Saskatchewan and Knowledge Network have come on board as broadcasters of a Canadian preschool series from coproducers marblemedia and The Jim Henson Company.
The live-action preschool series Hi Opie!, created by Barbara Slade (Angelina Ballerina, Rugrats), was originally commissioned by TVOntario.
Now the series is being cast and written in Toronto by marblemedia, with production of 39 seven-minute episodes, or 13 half-hours, to start in March.
Hi Opie! will then debut later this year on TVOKids, City Saskatchewan and Knowledge Network.
The preschool series, targeted at kids two-and-a-half to five years old ahead of kindergarten, features a puppet friend Opie!, custom built by Jim Henson's Creature Shop.
Opie and his real-kid classmates are in their first year of all-day kindergarten, and with each new day learn more about Opie's personal growth as he participates in, struggles with and inevitably succeeds in kindergarten activities.
Kate Barris will show run the series, with Larry Mirkin (Fraggle Rock) producing, and Lowell Dean serving as producer/director.
The executive producer credits are shared by Mark Bishop and Matt Hornburg for marblemedia and Lisa Henson and Halle Stanford for The Jim Henson Company.
"The Jim Henson Company's rich history of creating emotional, life-changing, memorable entertaining experiences for audiences, including myself, is unmatched – working together with their team to bring another puppet into the lives of kids is a dream come true for marblemedia," said Bishop, co-CEO and executive producer at marblemedia, of the flagship series in a statement.
Distribution360 will share TV, DVD and digital distribution with The Jim Henson Company, which will also oversee format rights, and merchandising and licensing rights worldwide.