Global's Remedy gets Monday treatment
The new medical drama hopes to find a sweet spot against comedy and serial killer dramas on rival nets.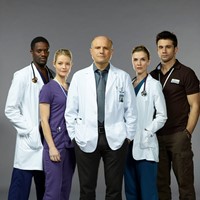 Global TV is looking to set its star-studded new medical drama Remedy up for success with a Monday night debut on Feb. 24.
The mid-season series will set up shop in the 9 p.m. timeslot, up against Kevin Bacon-starrer The Following on CTV. The series gets a sci-fi lead in from Almost Human at 8 p.m. and leads into the hit fall series The Blacklist at 10 p.m. (All times ET.)
"It's perfectly sandwiched between two very strong shows," Barbara Williams, SVP of content for Shaw Media, told Playback.
With a female-skewed target demo and lighter tone, Remedy provides counter-programming to City's Monday night comedy lineup and the dark, gritty serial killer drama airing on CTV in the same slot, she explains.
"Every single night on primetime television is competitive – there's no such thing as an uncompetitive timeslot – but you're looking to at least offer a bit of a point of difference."
Remedy stars Flashpoint alum Enrico Colantoni (who also makes his directorial debut) as the family patriarch and chief of staff at the fictional Bethune Hospital, alongside Dillon Casey (Nikita) as his med-school dropout son and Sara Canning (The Vampire Diaries) his eldest daughter and nurse in the hospital's ICU.
Bernie Zukerman and Greg Spottiswood executive-produce (Spottiswood is also creator and showrunner), with Kelly Makin and Adam Barken co-executive producing.
Remedy is produced by Indian Grove Productions in association with Shaw Media.
The series was financed with the participation of the Canada Media Fund, the Ontario Film & Television Tax Credit and the Canadian Film or Video Production Tax Credit.