Lark Productions tackles first docu-series with Knowledge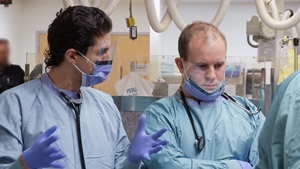 When the opportunity to produce an original documentary for the Knowledge Network arose, Lark Productions jumped at the chance, even if it meant filming in the most chaotic of urban environments: a busy hospital emergency room.
The fruit of that labour is Emergency Room: Life and Death at VGH premiering Jan. 21 on the commercial-free, B.C.-based channel. The six-part documentary series takes a behind-the-scenes look at Vancouver General Hospital, examining provocative issues such as dying with dignity and the institutionalization of the mentally ill.
It's the first original documentary produced by Lark; the prodco is behind the scripted drama Motive on CTV and produced the unscripted series Real Housewives of Vancouver for Shaw Media.
Trying something new was important for the company, said Louise Clark, founder and president, Lark Productions.
"We enjoy not being put into a box," she said.
Knowledge Network wanted to ensure that the company chosen to make the docu-series didn't have to cobble together multiple funding sources, and also wanted to keep the content "laser-focused" on B.C., said Knowledge Network CEO Rudy Buttignol.
With that in mind, the network dedicated $2.25 million to the VGH budget – the equivalent of Knowledge's annual budget for commissioned original programming.
"We really wanted to demonstrate to both the filmmaking community and our key stakeholders that we championing the traditional, classic documentary form from B.C. filmmakers," Buttignol said, noting that the project was financed by the Canada Media Fund, as well as other tax credits and distribution advances.
Supporting and marketing traditional documentary filmmaking is part of the channel's business strategy, he notes.
"If you can brand yourself in supporting these one-off documentaries and you can program it so that people can find it, and market it so that people are aware of it, you can have success," Buttignol said.
Emergency Room: Life and Death at VGH will also feature a significant online component. A website dedicated to the series was launched about two weeks before its premiere and will feature a moderated discussion section for viewers, with physician weighing in on comments. There is also an online poll that asks users yes-or-no questions on various health care issues, in an effort for the network to further engage viewers and gauge the public's stance on controversial issues.
"There were just a lot of things that probably wouldn't make great television, but would make a good discussion piece," Buttignol said.
Emergency Room: Life and Death at VGH was executive produced by Clark and Andrew Williamson, who is also with Lark Productions.
The premiere of the VGH doc is more good news for the Vancouver-based prodco; last week, it was announced NBCUniversal International Television Production had acquired a minority stake in the company.