Production underway on Who Lives Here? for W Net
The new factual series from 3Bird Media will complement successful W Net programming such as Love It or List It, says Corus exec Vibika Bianchi.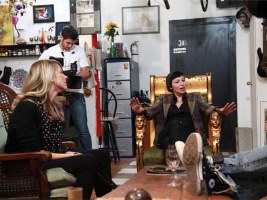 Production has begun on Who Lives Here?, a Toronto-filmed lifestyle reality show greenlit by Corus Entertainment's  W Network this fall.
The show has shot about three of the 10 half-hour episodes W Network ordered, said Jennifer Twamley of 3Bird Media, who developed and executive produced Who Lives Here? along with Andrika Lawren.
Who Lives Here? brings five strangers into each other's houses, and then they must match each other up to their respective homes to win a $1,000 prize.  The show is being filmed throughout the Greater Toronto Area.
The format was developed by Twamley and Lawren, both of whom  have a decade of experience in lifestyle television production with a focus on the home design realm. The idea was to challenge participants' assumptions and first impressions,  Twamley said.
"The underlying question with this show is, 'can you judge a book by its cover?'"  she explains.
The series has been licensed by both W Network in Canada and HGTV in the States.
W Network greenlit Who Lives Here? because it was looking for a lighter, half-hour property show that could fit into the network's programming schedule in multiple places, said Vibika Bianchi, VP original programming for lifestyle, reality and factual entertainment with Corus Entertainment.
"Ideally, it'll be a bit of a workhorse for us in the long run and we could have multiple seasons of it," Bianchi said, adding that the network has done well with the property genre overall with shows like Property Brothers and Love It or List It.
"Our property shows have driven the success of weekday prime on W," Bianchi said.
Who Lives Here? is set to launch on W Network on April 21.