Orphan Black leads Canadian Screen Awards nominations
Bell Media's clone drama pulls in a TV field-leading 14 nominations and Quebec directors dominate the film nods.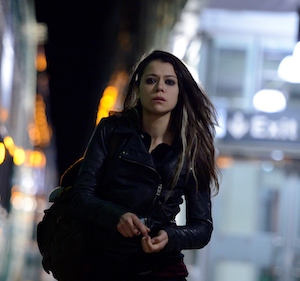 Bell Media's clone drama Orphan Black pulled in a TV field-leading 14 nominations and Quebec directors dominate the film nods as the competition for the upcoming Canadian Screen Awards was laid out Monday.
The Space drama will vie for the top drama series alongside APTN's Blackstone, CTV's Motive and Flashpoint series, and Global Television's Bomb Girls.
Temple Street Productions' Orphan Black also earned lead Tatiana Maslany a best dramatic actress nomination, and other acting nods for co-stars Maria Doyle Kennedy, Kevin Hanchard, Jordan Garvis, Michael Mando and Natalie Lisinska for best guest dramatic role actor.
The Canadian Screen Awards juries, continuing a tradition of honouring cancelled series, also gave HBO Canada's Less Than Kind 12 nominations, including best comedy writing nods for creators Chris Sheasgreen and Marvin Kaye.
And a slew of acting nominations led Global's Rookie Blue to 9 nods in all, followed by HBO Canada's Call Me Fitz, and City's Seed and CTV's Flashpoint with 8 nominations each.
"We are very proud to see programs like Less Than Kind and Call Me Fitz, developed by Astral Media/Corus, recognized alongside Bell Media programs like Orphan Black, Flashpoint, Saving Hope, and Motive. It speaks to the strength of our independent production teams… as well as our fantastic industry partners," said Scott Henderson, VP communications, Bell Media, in an interview following the announcement.
As the Canadian Screen Awards follows the money, most of TV nominations this year went to series on private networks, including cable dramas.
The CBC's perennial nominee CBC News: The National received seven nominations and Hockey Night in Canada snagged six,  followed by Gavin Crawford's Wild West, Rick Mercer Report and Mr. D with five nominations each.
But elsewhere, nominations for Screenies went to commercial TV fare, including CTV's The Borgias, which earned seven nominations, including for best international drama.
See a full list of television nominees here.
On the film side, the Screenies promises a shoot-out between French and English-language directors.
The best film category will see Quebec contenders in Sebastian Pilote's Le Demantelement, Xavier Dolan's Tom a la Ferme, Louise Archambault's Gabrielle and Michael Poulette's Maina.
They will go up against English language film entries like Denis Villeneuve's Enemy, Don McKellar's The Grand Seduction, an adaptation of Jean-François Pouliot's 2003 French language film, Michael Dowse's The F Word and Peter Stebbing's native family drama Empire of Dirt.
"It was a very small film and very challenging to make. Although it was a wonderful experience it definitely took its toll on me," said Jennifer Podemski, a producer on Empire of Dirt who also played a lead role in the film. "So to come out the other side and be recognized for the work that everyone put into the film is really overwhelming and it feels great."
The best film actor category will see Le Demantelement's Gabriel Arcand and Enemy's Jake Gyllenhall vie against Daniel Radcliffe in The F Word, Brendan Gleeson in The Grand Seduction and Rajesh Tailang for Siddharth.
And the best film actress competition will pit Rouge Sang's Isabelle Guerard, Rhymes for Young Ghouls' Kawennahere Devery Jacobs and Gabrielle's Gabrielle Marion-Rivard against Empire of Dirt's Cara Gee and Cas & Dylan's Tatiana Maslany.
The Screenies, organized by the Academy of Canadian Cinema & Television, will be handed out from March 3 to 9, and climax with a live gala broadcast on the CBC.
See the full list of film nominees here. See the docs and shorts list here.
- with files from Julianna Cummins