Avi Federgreen unveils IndieCan $10K film challenge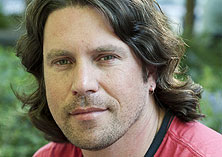 Film distributor Avi Federgreen is giving eight filmmakers key industry mentorship and services if they can make their first film a feature shot for under $10,000 by the end of 2014.
Federgreen's IndieCan10K challenge was unveiled Monday and aims to see eight first-time filmmaker teams mentored by the veteran film producer and distributor.
The grassroots industry building initiative will also include in-kind services, including production equipment and post production services.
"We need to encourage emerging filmmakers in Canada to get out there and make their first feature. And we need to show them they can make a great film as little as $10,000. Ingrid Veninger's 1K Wave Challenge proved that it's more than possible," Federgreen said in a statement Monday.
The participants, drawn from every Canadian province, will work with mentors, including Trish Dolman in B.C., Dylan Pearce in Alberta, Sean Cisterna in Ontario and Gia Milani and Tony Whalen in New Brunswick.
Details are available at www.indiecan10k.ca, with the deadline for submissions on Feb. 16, 2014.