Moze Mossanen makes Rise for ABCSpark.ca
The 10-minute online film is the first original digital commission for the Corus channel and follows a young street dancer competing in a TV dance contest.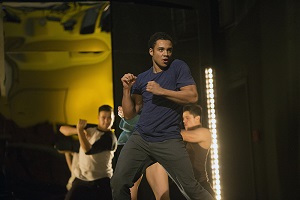 Moze Mossanen's dance card has been busy of late after the veteran filmmaker directed the web video Rise for Shaftesbury and ABCSpark.ca.
The 10-minute online film about a young street dancer, played by Izaak Smith, competing in a TV dance competition to lift his family out of poverty follows a Mossanen and Shaftesbury collaboration on Romeos and Juliets, a documentary with the National Ballet of Canada for the CBC.
Mossanen's other dance-themed film include Nureyev, a dance drama about the Russian ballet giant, and the 1998 mystery Dances for a Small Screen.
Rise also stars Taborah Johnson, Ashley Leggat, Clé Bennett and Peter Keleghan.
"Rise is a celebration of self-expression in the spotlight, even as it acknowledges the sacrifices that are required in order to follow one's dream," said Mossanen, director and co-creator of Rise along with Dianna Bodnar and Andrew Pope.
Rise had financing from the Bell Broadcast and New Media Fund, with Christina Jennings and Scott Garvie serveing as executive producers, and Teresa M. Ho and Diang Iu as producers.
RISE is the first digital commission for ABC Spark. According to a spokesperson for the channel, it "will likely" be exploring other digital content opportunities for Corus' women's and family channels including W and CMT, in the future.