Glee gets new Canadian home on City
Rival Global Television gave up the musical dramedy after Fox shifted the series back to Tuesday nights.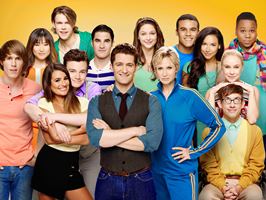 If it's Tuesday, it must be Glee on City.
Fox moving the musical dramedy back to Tuesdays from Thursday night has the TV show moving from Shaw Media to Rogers Media and its City network.
As part of a deal with Twentieth Century Fox Incendo Television Distribution, City will start airing the fifth season of Glee, with new episodes, on Feb. 25, as part of a simulcast at 8 p.m.
City will also from Feb. 25 air New Girl at 9 p.m. and Brooklyn Nine-Nine at 9:30 p.m. after the sitcoms were moved back an hour by Fox to make way for Glee.
Until Feb. 25, City will continue with a Fox comedy block that includes Dads at 8 p.m., Brooklyn Nine-Nine at 8:30 p.m., New Girl at 9 p.m. and The Mindy Project at 9:30 p.m.
Fox is putting Dads and The Mindy Project into hiatus after Feb. 25 through the mid-season.
Global Television-parent Shaw Media gave Glee up to City after it aired the series at 9 p.m. on Thursday night at 9 p.m. against Grey's Anatomy on CTV.
Global has stalwart NCIS on Tuesday nights at 8 p.m.
"This critically acclaimed series strengthens our Tuesday night lineup and we are proud to be its new home in Canada," Hayden Mindell, VP of programming and content at Rogers Media, said in a statement after unveiling the Glee acquisition.
City will also air the sixth and final season of Glee in fall 2014.