Lindsay Mackay film to pilot Pinewood filmmaker initiative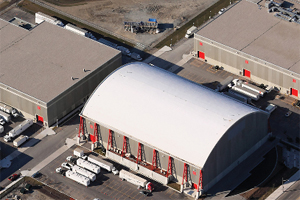 The coming-of-age drama Wet Bum has been tapped as the inaugural project from the Pinewood Toronto Emerging Filmmakers Initiative.
The film, from director Lindsay Mackay, already tapped financing from the OMDC Film Fund.
Now Wet Bum is moving onto a soundstage at Pinewood Toronto Studios that aims to have the project shoot in a purpose-built facility, as opposed to empty warehouse space, and be welcomed onto the Pinewood lot.
"We're not always at capacity and we do have availability. So we're supporting directors and producers that are trying to make it," Megan Guy, Pinewood's international sales executive, told Playback on Monday.
Wet Bum stars Gordon Pinsent, Leah Pinsent, Julia Sarah Stone (The Killing) and Craig Arnold, and portrays a 14-year-old girl forced to work in a nursing home. As she struggles to make sense of growing up, she comes to learn about growing old.
Wet Bum was selected to pilot the initiative based in part on the producing/directing team, which includes Toronto-based producers Paula Devonshire, Lauren Grant, Daniel Bekerman and Sean Buckley.
Devonshire, Grant and Bekerman met during TIFF Studio, a year-round program to get mid-level, Ontario-based producers to the next level of their careers.
They also attended Trans Atlantic Partners in 2013 and partnered with Buckley in August 2013 and executive producer Tim Nye in September 2013.
Wet Bum was also one of a dozen projects to tap the OMDC Film Fund for production financing during the latest funding round, one of the prerequisites to qualify for the Pinewood Toronto Emerging Filmmakers Initiative.
"We look at all of our criteria — the budget, how many credits the producers and directors have, and the timing — and if we can help, we offer offices for eight weeks in total and two weeks on a sound stage that we have available," Guy explained.
"We're looking to support projects that will be shot locally, either in Toronto, or around Toronto, by Ontario directors and producers trying to make a name for themselves," she added.
The Pinewood Toronto Emerging Filmmakers Initiative aims to support one or two projects a year, depending on availability of stages.