Tricon grabs international distribution rights to Sensitive Skin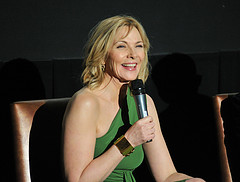 Tricon Films & Television has picked up the international distribution rights to Rhombus Media's Sensitive Skin dramedy for Movie Central and The Movie Network.
The six-part series, which stars Kim Cattrall and Don McKellar, is shooting in Toronto for six weeks.
The ensemble cast includes Colm Feore, Elliot Gould, Joanna Gleason, Mary Walsh and Marc-Andre Grondin.
The project is an adaptation for the BBC comedy format with the same name that starred Joanna Lumley as a wealthy socialite in an emotional crisis.
Bob Martin penned the adaptation, with McKellar directing.
Sensitive Skin is produced by Rhombus Media in association with Baby Cow Productions, The Movie Network, and Movie Central.
Niv Fichman and Sari Friedland serve as producers with Kim Cattrall, Don McKellar, Bob Martin, Henry Normal and Hugo Blick executive producing.