TIFF 13: Alanis Obomsawin on Hi-Ho Mistahey!
First Nations director Alanis Obomsawin (pictured) is expanding her canon of documentaries on injustice and resistance with Hi-Ho Mistahey!, a film about the lack of educational resources available on Canadian reserves. 
Alanis Obomsawin, whose main interests are in education and children, came across the story of Shannen Koostachin, a youth activist from Attawapiskat First Nation, a reserve in Canada's Northern Ontario.
The late Koostachin had started the 'Education is a Human Right' campaign with her peers in a bid to get a proper school for the remote reserve. The campaign has since been taken up by the First Nations youth, and is now known as Shannen's Dream.
An oil spill had impacted the previous school on the reserve, which had to be torn down, but - despite a promise in 2009 from the federal government of Canada, which oversees education for First Nations reserves – there was no sign of a new school taking its place.
"When I heard the story, I went to Attawapiskat and I saw the condition and the problems of even having decent places to study, and I wanted to film," Obomsawin tells realscreen.
Her film shows students in the classrooms in Attawapiskat, which are cold portables. Children have to wear their winter jackets and there's a high teacher turnover.
"When Shannen saw that she wasn't getting anywhere with the adults and the government, it was her idea to go to the children, to go to classrooms, and I think it's an incredible story because in the end, you see that the children win," Obomsawin says.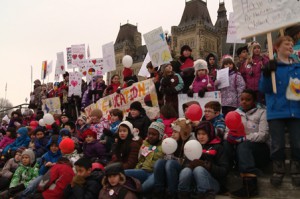 In order to film, Obomsawin and her National Film Board of Canada crew had to battle difficult weather, with temperatures dipping 40 or 50 below zero.
The end product captures the plight of these children, as they continue their fight for fair education. The battle takes them all the way to Geneva, where a delegation of First Nations youth present to the UN Committee on the Rights of the Child. In addition, Hi-Ho Mistahey! offers a portrait of an isolated Northern reserve, complete with a duck hunting excursion.
"When you go to communities like that and you see all of the problems of poverty, you do everything you can to help out," she says. "To live there is extremely expensive. We put a bit [in the film] on the prices of food for instance, and even if you have a job, its difficult to be able to survive and be able to pay for all this. If they didn't hunt, I don't know what they'd do. A lot of people can't afford to buy just from the store."
Obomsawin says she wants the film to educate audiences about First Nations issues, education and communities, and is continuing the thread of Hi-Ho Mistahey! and Shannen's Dream with her next project, which she is filming now at the Tribunal of Human Rights.
"It concerns the equal rights for Indigenous children in education and in health," says Obomsawin. "It's a debate that's going on right now and I hope at the end there will be justice."
Hi-Ho Mistahey! screens during the Toronto International Film Festival (TIFF) at the Jackman Hall on September 14 at 6 p.m. EST. Check out a clip from the film below:
From realscreen