TIFF13: Avrich eyes Penthouse with Filthy Gorgeous
Director Barry Avrich (pictured) talks to Playback sister publication realscreen about uncovering the life of reclusive Penthouse magazine founder Bob Guccione for his latest documentary, which world premiered at the Toronto International Film Festival earlier this week.
Barry Avrich has filmed documentaries on entertainment industry moguls such as Harvey Weinstein, Garth Drabinsky and Lew Wasserman, but when he decided to make a film about the life of Bob Guccione, there was an immediate spike in interest.
"It was the fastest pitch meeting I've ever had," Avrich told realscreen, ahead of the doc's world premiere at the Toronto International Film Festival earlier this week. "In both Canada and the U.S., before I could say his last name, the response was, 'We're in.' Everybody goes, 'Wow, there has been nothing done and it's provocative, salacious and interesting.'"
The late founder of the softcore adult magazine Penthouse, Guccione led a reclusive life compared with his 'porn king' rivals, Hugh Hefner of Playboy and Larry Flynt of Hustler. A self-made businessman, he grew the magazine into a US$350 million publishing empire in the mid-1980s, but eventually lost it all and died broke, just shy of his 80th birthday in 2010.
As the title suggests, Filthy Gorgeous: The Bob Guccione Story is an examination of the contradictions in the controversial publisher's life. Outwardly he was the tanned and coiffed Casanova-turned-freedom of speech crusader who waged a public relations war against the religious right. In private, he was an intellect and painter who amassed one of the largest art collections in the United States.
Born in Brooklyn and raised in New Jersey, Guccione (pictured below) briefly studied to be a priest as a teenager before moving to Europe to work as an artist. He later moved to London with his second wife where he worked for a pin-up poster mail order business. Noticing the popularity of Playboy's newsstand sales, he started Penthouse as a British alternative that offered readers a mix of artfully shot nude photos and high-brow, investigative articles.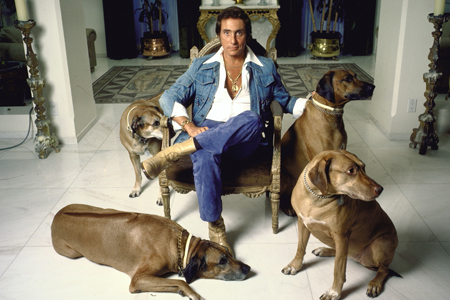 Although Penthouse stirred controversy in the United Kingdom, he launched a U.S. version in 1969 and became obsessed with outselling Playboy. He gradually expanded his empire, launching the science magazine Omni and music magazine Spin, bankrolling the notorious 1979 historical epic Caligula starring Helen Mirren and Malcolm McDowell, and hiring a staff of primarily women to run Penthouse, including his longtime partner Kathy Keaton.
To recount the story, Avrich uses a mix of archival interviews and footage and original interviews with Guccione's sons Bob Jr. and Nick, his assistant Jane Homlish, lawyer Alan Dershowitz and Penthouse columnist Xaviera Hollander, and other key Penthouse staffers.
Guccione had five children, all of whom were extremely suspicious of Avrich's intentions when he approached them to be in the doc.
"It was important to prove to them I was making a film that was about preserving their father's legacy and telling a story that people don't know," Avrich says.
Although Bob Jr. and Nick agreed to interviews, he went back and forth with Guccione's first daughter Tonina for several months before ultimately deciding to finish the film without her input. "I showed it Bob Jr. a couple of weeks ago and he cried for an hour afterwards and said, 'God, I miss my father,'" he says. "That said it all for me."
Aside from interviews and archival footage, Avrich got a window into Guccione through an unexpected source six months into the production.
Last February, he received a call from Jeremy Frommer, an ex-hedge fund trader for the Royal Bank of Canada living in New York City. He had since moved into the estate clearance business and acquired a storage locker at auction containing the personal effects from Guccione's house, including all the negatives for Caligula.
Avrich flew to New Jersey and poured through Guccione's diaries, sketchbooks and personal artwork, which – like the photos he shot for Penthouse – often imitated the master painters he collected: Matisse, Botticelli, Renoir.
"That opened up my mind to how driven he was with art: obsessive, collecting it, creating it, making it. He surrounded himself with art," he explains. "He was constantly sketching and painting. His walls were covered with the best art in the world. I did not know the extent of that until I looked at the diaries and saw the volume of art."
In the late 1990s, Penthouse's circulation began to drop in the face of competition from the Internet. While Playboy re-positioned itself as a lifestyle brand through licensing deals, Guccione failed to grasp the impact of new media and his company went bankrupt. His beloved art collection was sold off and he died at age 79 in Texas after being diagnosed with terminal lung cancer.
Avrich hopes audiences will walk away from the film having learned something that they did not know before.
"The trajectory of my career, specifically on making these documentaries, is continuing to evolve the art form beyond talking heads," he says. "With Filthy Gorgeous we want to take you into Bob's world; get a sense of his house, his life, his art, what was important to him and what wasn't.
"If you walk out of my film and say, 'I felt like I knew him' or 'I don't want to spend any time with him' then I've succeeded in letting you into that world. That's the key."
Filthy Gorgeous screened at the Toronto International Film Festival on Wednesday (September 11) at the Isabel Bader Theatre at 4:45 p.m. After the festival, it will get a limited theatrical run before airing on The Movie Network in Canada and Epix in the United States.