New guest stars added to Haven cast
Emma Lahana and Christian Camargo join season four of the Nova Scotia-filmed drama (pictured).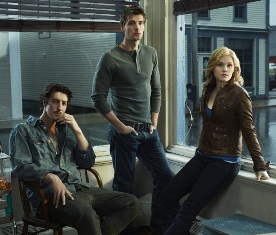 Showcase drama Haven is expanding its cast with the addition of Emma Lahana (Hellcats) and Christian Camargo (Dexter) as recurring guest stars in its upcoming fourth season.
The season picks up six months after the third-season cliffhanger, in which the small Maine town was pummeled by a violent meteor storm.
The Nova Scotia-filmed drama, based on Stephen King's novella The Colorado Kid, follows a former FBI agent-turned-cop who discovers Haven's secrets as she uncovers the mysteries of her own past.
Haven, which airs on Shaw Media's Showcase in Canada, Syfy in the U.S. and internationally on Syfy Universal channels, stars Emily Rose, Eric Balfour and Lucas Bryant.
Colin Ferguson also has a recurring guest role in the season four.
Haven is produced by eOne, in association with Piller/Segan/Shepherd. The series is co-commissioned by Shaw Media in Canada and Universal Networks International globally.
eOne's John Morayniss and Big Motion Pictures' David MacLeod are exec producers, along with Lloyd Segan, Shawn Piller, Scott Shepherd and Matt McGuinness. Sam Ernst and Jim Dunn, who developed the series, also exec produce. eOne distributes the series worldwide, and recently sold TV rights in Continental Europe to Germany's Tele München Group.