Rookie Blue renewed for fifth season summer run
The cop drama, which airs on Global and ABC stateside, announced the news on the series' Twitter account Wednesday.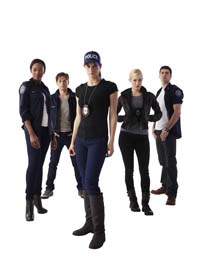 Global Television and ABC cop drama Rookie Blue has been renewed for a fifth summer run by both North American broadcasters.
The commission came as the Canadian drama is four episodes into its fourth cycle.
News of the renewal came first on the series' Twitter account, which announced Wednesday: "Season 5 confirmed! A big huge Thank You to all our amazing fans who made this happen! You renewed the blue!"
The Canadian drama from ICF Film and Entertainment One is to start development on a fifth season in the fall, with production to start in Toronto in January 2014.
Rookie Blue, which stars Missy Peregrym and Gregory Smith, also airs internationally on Universal Networks International's pay-TV channels.
The series returned on May 23 with just over 1.5 million viewers tuning into the season four launch episode.
Entertainment One, which distributes Rookie Blue worldwide, has sold the series into 190 markets, including Britain, France and Australia.
Rookie Blue is executive-produced by Tassie Cameron, Ilana Frank, David Wellington, Russ Cochrane and John Morayniss.