Peter Wellington, Jason Eisener films screen at Fantasia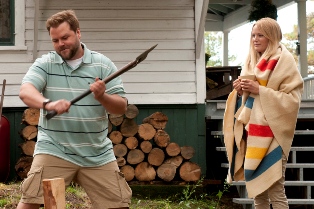 Peter Wellington's Cottage Country is to receive a North American premiere at the Fantasia International Film Festival, organizers said Tuesday.
The black comedy (pictured) starring Tyler Labine, Lucy Punch and Malin Akerman will screen at the Montreal genre film festival after being shot in Toronto by Whizbang Films.
Fantasia also booked a Canadian premiere for the anthology horror film series V/H/S 2, a Canadian-U.S.-Indonesia co-production with segments from directors that include Hobo With a Shotgun's Jason Eisener, Simon Barrett and Adam Wingard.
The anthology series already screened at Sundance, SXSW and as part of the midnight film sidebar at Karlovy Vary.
And Cody Calahan's Antisocial, produced by Breakthrough Entertainment and Black Fawn Films, will also screen at the Montreal genre fest.
The Fantasia International Film Festival is set to run from July 18 to August 6.

Photo credit: Christos Kalohoridis