Camera Shy, Continuum win at Vancouver Leo Awards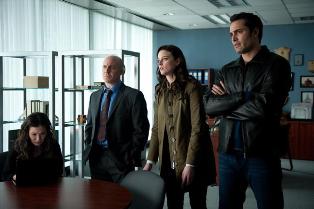 The 15th annual Leo awards were given out on Friday and Saturday evening at a glitzy ceremony in downtown Vancouver.
Aubry Arnason and Sarah Groundwater-Law of Shaw TV's  The Wedding Belles and The Proposal hosted Friday night's festivities while comedy couple Brent Butt and Nancy Robertson hosted Saturday night.
The winner for best motion picture was the independent comedy Camera Shy about a politician whose every move is being videotaped. The flick took home five other motion picture awards including best direction, screenwriting, cinematography, musical score, and supporting performance by a male.
Ring of Fire, about a volcanic eruption that spreads disaster across the globe, was the best television movie made in BC last year and also won in the categories of cinematography, picture editing, overall sound, musical score, production design, make-up, and supporting performance by a male.
The time-travel sci-fi series Continuum walked away with the Leo for best dramatic series and also took awards in the dramatic series category for best cinematography, picture editing, overall sound, musical score, production design, make-up and supporting performance by a male.
History Television's show on medieval  forts, Battle Castle and the documentary on India's health care system Blood Relative took four and three Leos respectively in the documentary category, with Battle Castle winning for best doc series and Blood Relative winning best feature length doc program.
Worldwide Bag Media's show on crazy competitions Get Stuffed beat out its competitors to take home the Leo for best information or lifestyle series, and the fantasy/horror tale of a young boy overcoming his fears, Shhh, won for best short drama.
Beauty Mark, the  tale of a child beauty pageant star who wants to get out of the business, and which represented Canada in the short category at Cannes won three awards while Binner, a short about what can happen on garbage day for a mysterious man with a shopping cart also won three awards.
And the best performance in a music, comedy or variety series was given to HBO's Less Than Kind – the Canadian series on growing up Jewish and dysfunctional in Winnipeg.
Teletoon's Rocket Monkeys was the best animated production made in BC while Nerd Corps Entertainment's Slugterra won in the categories of direction, sound and performance in an animated series, while R.L. Stine's horror/fantasy series The Haunting Hour was tapped as the best youth or children's program or series.
The best student production award went to Marathon, while best music video went to Jitters by Madchild & Matt Brevner featuring Dutch Robinson and the best web series prize went to After.
The Leo awards celebrate the achievements of the B.C. film and TV industry and are run by the Motion Picture Arts and Sciences Foundation of B.C., and are decided by a jury of film and TV professionals. Winners were chosen from more than 850 submissions.
For the list of Leo winners, click
here
.