TMN, Movie Central unveil 2013 production slate
The slate features six Canadian productions, including half-hour comedy Sensitive Skin, starring Kim Cattrall (pictured) and Don McKellar, who also directs.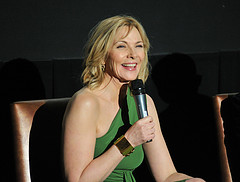 Comedy series Sensitive Skin and Funny as Hell are amongst the six new and returning Canadian productions greenlit by Astral's The Movie Network and Corus Entertainment for 2013.
Half-hour comedy Sensitive Skin marks actor Kim Cattrall's (Sex and the City) return to TV. The series, based on the U.K. series of the same name, focuses on a woman going through a mid-life crisis. Don McKellar directs and also stars in Sensitive Skin. The series is written by Bob Martin and produced by Toronto-based Rhombus Media. Sensitive Skin will begin shooting in Toronto in October and is slated to air in 2014.
The Just For Laughs-produced Funny As Hell returns for a fourth season. The half-hour series features stand-up, musical comedy and digital shorts hosted by Jon Dore, to be filmed during the 2013 Just for Laughs Festival in Montreal and slated to air in 2014.
TMN and Movie Central also have also greenlit a handful of documentaries for production in 2013. Fanarchists: The Fan Film Phenomenon focuses on amateur-made films that increasingly influence pop culture alongside Hollywood productions. The 90-minute doc is produced by Ruby Tree Films and directed by Donna Davies.
Filthy Gorgeous: The Bob Guccione Story from director-producer Barry Avrich (Show Stopper) tells the story of the rise and fall of Penthouse magazine founder and publisher Bob Guccione and is tentatively scheduled for fall 2013.
Elsewhere, Banger Films (Rush: Beyond the Lighted Stage) will begin production this summer on Hip Hop Evolution, which follows critically acclaimed MC Shad's global hip-hop journey, and previously announced documentary The DNA of GSP, directed by Peter Svatek and Kristian Manchester and produced as a co-venture between Triplex Films, Upside Up Media Group and Jimmy Lee, is currently in production.
"The Movie Network's latest crop of projects reflects our ongoing commitment to working with the finest Canadian talent, both in front and behind the camera," said Astral's director of original programming, movie services, Aubie Greenberg in a statement.
"With daring films and series that can only be seen on PayTV, Movie Central continues to be home to top quality, boundary pushing Canadian original productions," Corus' director of original programming, drama and comedy, Julie Di Cresce, said in her own statement.