Weekly roundup: nominations and awards
This weeks' prize-heavy briefs include news of Inch' Allah (pictured) taking a special prize at the Beijing International Film Festival and the Canuck nominations at the up-coming Monte-Carlo International TV Festival.
Briefs, briefs and more briefs: Here is Playback's weekly compendium of short but need-to-know news bits.
Awards
On the international front, Inch' Allah (pictured), director Anaïs Barbeau-Lavalette dramatic feature set in the Middle East, took home a special jury prize at the third annual Beijing International Film Festival earlier this week. The award follows a win for Barbeau-Lavalette earlier this year at the Berlin International Film Festival.
As well, Kate Melville's theatrical feature Picture Day took the audience award for best narrative feature at last weekend's RiverRun International Film Festival in Winston-Salem, N.C. Picture Day is also in the running for the upcoming Canadian Cinema Editors Award.
Please Kill Mr. Know it All (left), co-directed by Sandra Feldman and Colin Carter, has taken the best comedy feature prize at the WorldFest-Houston International Film Festival. It recently was licensed by The Movie Network.
Closer to home, the 2013 ReelWorld Film Festival in Toronto announced its awards winners this week.
They included Lost Lagoon (directed by Rob Leickner, produced by Rob Leickner and Michelle Kim) which took the outstanding Canadian feature award and both ALIVE (directed by "RT!" and produced by John Nadalin and Jordan Gross) and Baby Half Lie  (directed by Kimberly Miller-Pryce and produced by Tara Woodbury) which shared the outstanding Canadian short award.
The French/Belgian animated co-production, Ernest and Celestine, won big at the Reel 2 Real International Film Festival for Youth, taking three top awards. Specifically, it tied in the category youth jury award for best picture (ages 9+), and won both the adult jury award for best picture, and the Edith Lando Peace Prize. Reel 2 Real wrapped in Vancouver April 18.
Finally, The Stella and Sam Album, featuring Emilie Mover, took the Juno Award for children's album of the year last Sunday. The TV series Stella and Sam is produced by Toronto-based kids TV producer Radical Sheep Productions.
Nominations
The Monte-Carlo International TV Festival has announced its nominations, and among them are several Canadian productions. They are: in the TV film category, Entertainment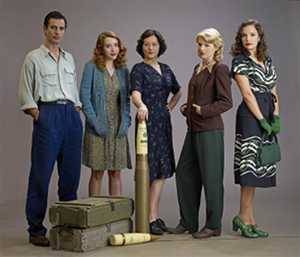 One's Tom, Dick & Harriet, which is up for two prizes, including outstanding director for K.T. Donaldson and best actor for Steven Weber; in the comedy series category, LP8 Media's Les Parents which is up for outstanding actor Daniel Brière and outstanding actress Anne Dorval; and in the drama series category is Muse Entertainment and Back Alley Film's Bomb Girls (right), for outstanding actress Meg Tilly. Bomb Girls failed to secure a season three renewal earlier this week.
Also nominated in the documentary category is the CBC production Doczone: Syria – Behind Rebel Lines.
Web news
Westbury National, a Toronto-based  AV systems integration firm that services a variety of projects, including screen-entertainment productions, has unveiled a new website. Launched recently, its enhancements include social media integrations and a redesigned new and used equipment sales page.