Netflix maps out original productions strategy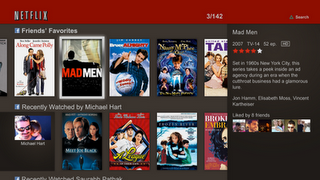 Netflix has earmarked "less than 10%" of its content spending budget on original production, the online streaming service revealed in a discussion paper released Wednesday.
The paper, posted to the company's website one day after reporting a robust quarterly profit, provides many insights into the company's approach to original productions.
"For 2013 and the next few years, we expect it (original production budgeting) to be less than 10% of our content spending," the company said. That equates to approximately $200 million of the company's over $2 billion annual content budget.

It added a note of caution, however, saying: "We will learn as we go, and expand our original content slate as we get more insight and confidence."
But it is forging ahead earnestly.
"Over the years, we've successfully developed the art of estimating how much our members will watch a given show or movie based upon how it has performed to date in other, earlier channels (theatrical for movie; broadcast and cable first-run for TV) and on how comparable titles have performed on Netflix. This generally enables us to avoid overpaying for content, relative to member enjoyment," it said.
"With originals, we are now extending that concept to estimate the attractiveness of projects that are brought to us by professional producers. There is more judgment required in this process, and more variability due to the art in the production process, but because of the data we have on our members' viewing habits and our experience in licensing a broad range of content, we think we can do as good or better job than our linear TV peers in choosing projects and setting budgets."
It continued by saying that, once it has greenlit a project, it typically approaches one of its established partners, such as Lionsgate and 21st Century Fox, to execute it. "We believe we are managing this aspect as well as our industry peers do through operational excellence and good hiring," it added.
Netflix also said it believed it has "a strong advantage over our linear competitors when it comes to launching a show. They have to attract an audience for Sunday at 8pm, say. We can be much more flexible. Because we are not allocating scarce prime-time slots like linear TV does, a show that is taking a long time to find its audience is one we can keep nurturing. This allows us to prudently commit to a whole season, rather than just a pilot episode. In addition, we are able to provide a platform for more creative storytelling (varying run times per episode based on storyline, no need for week to week recaps, no fixed notion of what constitutes a "season")."
This strategy allows the company to more easily attract talent, it claimed.
It underscored that marketing remains key. "By personalizing promotion of the right content to the right member, we have a large opportunity to promote our originals and one that's effectively unlimited in duration."
It spends $450 million annually on marketing.
The company held up for example the release of original production House of Cards, of which all seven episodes were released at once. "Several months after… (its release), huge numbers of members are just starting the series each week. The improved economics from whole-season, and improved storytelling that comes from giving creators more scope, are big advantages."
It also observed that versus distribution deal-making "originals production is cash-intensive and, depending upon the terms, that means for us that cash is front loaded relative to the P&L. As we expand originals, they will consume cash. Since we are otherwise using domestic profits to fund international markets, we will raise capital as needed to fund the growth of originals."
The full paper, which includes discussion of its approach to mobile TV and its international expansion plans, is here.