DGC-CMPA talks on new standard agreement resume Apr. 2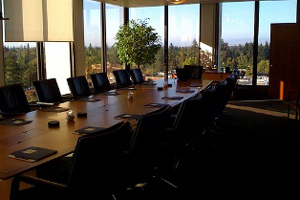 Just days before contract talks with Canadian producers resume, Alan Goluboff, chairman of the Directors Guild of Canada's Ontario branch, insists his members will not take the industry to the brink.
"There's rumours floating around and I have to make it clear that there's no intention by the DGC in Ontario, or within this collective agreement, to take job action," Goluboff told Playback.
Instead of picket lines, he added the guild will talk for as long as it takes to secure a new deal with the Canadian Media Production Association when negotiations resume as scheduled from Apr. 2 to 5.
But Goluboff does intend to push the producers hard on carrying through on a three-year old commitment to close an inequity gap for low-income earners among the DGC membership.
"I have members within my organization that barely make above Ontario's minimum wage. Lots of them," he insisted after a DGC Ontario annual general meeting in Toronto drew around 500 rank and file.
"There needs to be a rebalancing and a sharing among the workers," Goluboff added.
The existing standard agreement between the DGC and the CMPA, excluding B.C. and Quebec, expired on Dec. 31, 2012.
The CMPA in a statement said progress was being made at the table, despite contract talks only now resuming after breaking off last winter.
"While this is a challenging negotiation for both sides, the CMPA is committed to negotiating with the DGC in good faith to reach a mutually-beneficial deal, and to maintaining the long tradition of stability within the Canadian film, television and digital media production industry," the producers' organization stated.