B.C. film and TV spending grew to $1.215 billion in 2012
The Motion Picture Production Industry Association of British Columbia however says newly released government statistics don't properly reflect the drop in production.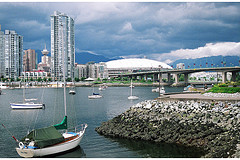 The Motion Picture Production Industry Association of British Columbia says newly released data on productions in the province don't reflect the sudden and sharp drop in film and TV work seen by the industry.
The numbers released Wednesday by the B.C. Film Commission indicated that for the year ending Dec. 31 B.C. had a total of 294 projects, with a total spend of $1.215 billion. That represented a modest increase compared to a total of 281 projects and total spending of $1.118 billion in 2011. The full numbers are in this PDF.
"We had a fair idea that the industry's overall performance last year would look stable," association vice-chair Cheryl Nex, told Playback. She added: "the decline took shape in the fourth quarter of the year, and first quarter results for 2013 show we are off nearly 40% in employment."
Nex continued by pointing to the recent Save B.C. Film campaign. "Many (professionals) are presently unemployed and uncertain about the industry's future here; we are looking to government to work with us on a strategy that will sustain our infrastructure and workforce."
B.C.'s minister of community, sports and cultural development minister, Bill Bennett, said in a statement he was happy with the province's performance in 2012 as it is "a very close second to Ontario, despite Ontario's unsustainable subsidies."
Despite the welcome numbers, however, "I also note that the last quarter of 2012 saw a dramatic decline in production, and therefore, government will need to actively monitor the industry as we proceed through 2013,"Bennett added.
In February, the province drew back the curtain on a plan to support the province's creative industries, an initiative the screen-entertainment industry was on the whole underwhelmed by.
A new agency, Creative B.C., will open shop at the start of April and is equipped with $1 million to bolster research, development and international marketing for the province's film, TV and digital media sectors.