Weekly roundup: Awards, distribution sales and TV premieres
Among this week's briefs is news of Yung Chang's doc The Fruit Hunters (pictured) winning a top honour at the annual International Environmental Film Festival in Paris and TV season premieres for Continuum, The Next Step, Wingin' It and Life with Boys.
It's Friday and the start of March, the month best known for "spring" forward the clock, a harbinger of warmer days to come. Herewith, Playback's weekly roundup of smaller news items.
Awards
Two Canadian documentary films took top honours at the just wrapped 30th annual International Environmental Film Festival in Paris. The Fruit Hunters (pictured), by Yung Chang, took the grand prize while a special jury prize was given to Payback, by Jennifer Baichwal.
Also, earlier this week Blind Spot: What Happened to Canada's Aboriginal Fathers?, a one-hour television documentary directed and produced by CBC Saskatchewan's Geoff Leo, received the Canada Award from the Academy of Canadian Cinema and Television. The award honours excellence in mainstream TV programming that reflects racial and cultural issues in the country.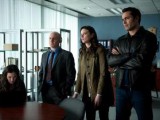 Air dates
Showcase's top series, sci-fi cop drama Continuum (pictured), will return for its second season beginning April 21, Shaw Media has announced.
Meanwhile, Temple Street Productions has unveiled the up-coming premieres of several of its scripted series. The Next Step will debut March 8 on Family Channel Canada while season one of Wingin' It debuts today (March 1) on Starz Kids and Family in the U.S. and while season three will premiere on Family Channel Canada Sunday.
Aboriginal Peoples Television Network will feature the world television premiere of We Were Children on March 19. A production involving Eagle Vision, Entertainment One and the National Film Board, the feature documentary focuses on the legacy of Canada's residential school system. It will then be available for purchase from the NFB's website the day after the telecast, either as a DVD or via download-to-own.
Corus Entertainment's YTV is launching season two of its successful live-action comedy series Life with Boys ((18 by 30 minutes) on March 19. It is produced by Nelvana Studio.
International sales
Toronto-based Fremantle Corporation has disclosed a pair of program sales.
It has sold 50 episodes of the reality/adventure series Sea Rescue to the Nautical Channel for carriage in the U.S., Europe, the Middle East and Africa. As well, it has sold all four seasons of children's series World of Wonders (pictured) to Ceska Televize's  new CT3 Kid Channel in the Czech Republic.
Crowdfunding
Hot Docs on Tuesday launched Doc Ignite's newest crowd-funding campaign, featuring Lost & Found, a documentary about survivors of the 2011 Japanese tsunami being reunited with possessions they had come to believe were lost for good. From producer and co-director Nicolina Lanni, and director of photography and co-director John Choi, the filmmakers aim to raise $30,000 in production funds over the campaign's 36 days.
Sports rights
Rogers' Sportsnet has secured a five-year agreement for the exclusive Canadian multiplatform rights to the IZOD IndyCar Series as well as rights to the Firestone Indy Lights. The multi-platform agreement, which begins in 2013 and runs through to 2017, includes a minimum of 16 races each season, including the marquee Indianapolis 500.