Trilight turning Swift Current Broncos tragedy into movie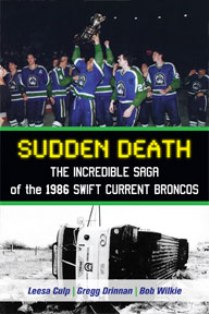 TV likes stories about athletes overcoming obstacles to achieve greatness.
So Trilight Entertainment is doing a book-to-film adaptation about Canadian junior hockey's Swift Current Broncos overcoming a game-day road accident in 1986 that cost the lives of four team members before two years later winning the CHL Memorial Cup.
Trilight optioned the book Sudden Death: The Incredible Saga about the Swift Current Broncos tragedy and hired Saskatchewan writer/director Rob King to pen the adaptation.
The film project echoes the CBC's recent TV movie The Phantoms, based on the true-life aftermath of a 2008 road accident that killed seven Bathurst, New Brunswick high school basketball players before the school's basketball team a year later won the provincial championship.
The Sudden Death book was written by former Bronco defenceman Bob Wilkie, hockey historian Gregg Drinnan, and Leesa Culp, who witnessed the 1986 car crash.
The irony is, while the local Broncos story occurred in Saskatchewan, Trilight plans to shoot the feature film adaptation outside of the province due to recent film tax credit changes.
"It's just a shame that due to recent decisions made by the Saskatchewan government and its continuing promotion of instability in the Saskatchewan film industry, we have to look at other jurisdictions in Canada to shoot this amazing story, which took place in none other than the premier's hometown," Trilight producer Holly Baird said in a statement.
Baird and fellow Trilight producer Shayne Putzlocher have produced four feature films in Saskatchewan since launching their production shingle in 2009.