Reunion, Shaw begin production on Continuum second season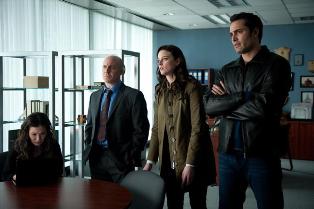 Production has begun on season two of time-travel drama Continuum, slated to premiere on Showcase in April.
The original one-hour drama, produced by Vancouver-based Reunion Pictures in association with Shaw Media, follows a policewoman from 2077 who travels back in time and teams up with a present-day cop to track down escaped convicts from her future.
The series debuted on Showcase with 1.7 million viewers over its two premiere airings, and the season finale was the most-watched finale in Showcase history, according to BBM Canada data.
The Vancouver-filmed series was greenlit for a second season in August, following its summer run on Showcase.
The series this month debuted on Syfy in the U.S. as part of its Powerful Mondays programming block.
Continuum stars Rachel Nichols, Victor Webster and Erik Knudsen.
Rounding out the cast for the series are Stephen Lobo, Roger Cross, Lexa Doig, Omari Newton and Luvia Petersen round.
Continuum is created by exec producer Simon Barry, with Patrick Williams exec producing and directing. Reunion Pictures Partners Tom Rowe, Lisa Richardson and Matthew O'Connor are exec producers.