VFX co Framestore expands with Montreal launch
The London-headquartered company cited the city's creative and tech base and Quebec's tax credit as reasons to open the new studio, which will handle a "significant proportion" of the company's 2013 VFX work.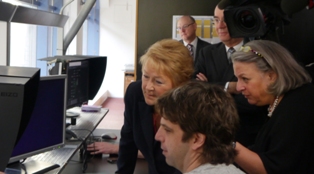 VFX and multiplatform content company Framestore is opening a Montreal office, Quebec Premier Pauline Marois announced Monday at the company's London headquarters.
"Framestore's decision to establish an operation in Montreal is based on the city's significant software, creative and technological talent base and proven track-record of attracting quality VFX work from major U.S. film studios. This combined with the fiscal advantages offered by Quebec's Film Tax Credit (QPSTC) means both Framestore and its clients will benefit from improved cost efficiencies," the company said in a statement.
The company added that due to differences in timezones, the Montreal studio will be able to cross over in the working day with the company's existing locations in London, New York and L.A.
The studios will all operate with functionally equivalent creative skills, systems, pipeline and workflow to ensure integration for crew and clients, the company said.
The new office is located in de Gaspé, an area of Montreal's Mile End, known as a hub for the city's creative community.
It will accommodate a "significant proportion" of Framestore's 2013 VFX work, including  for RoboCop, All You Need Is Kill and Paddington Bear.
The new studio will be led by local professionals and key staff from Framestore's London headquarters. Framestore is also sourcing additional talent from Montreal to add to the new studio's team.
"Québec offers winning conditions to foreign firms, which, like Framestore, are setting up operations here. In Montréal, the cinema and television cluster occupies a key place in the economy. In addition to the anticipated economic spinoff in Montréal, the establishment of Framestore will consolidate the cluster and broaden synergy between industry stakeholders, in particular those in the film and digital entertainment sectors," said Marois in her own statement.
"[Montréal's] artistic community is highly regarded by the film, games, software and technology industries. Montréal is a city that has great talent, training and recruitment potential alongside financial benefits such as a supportive tax regime and a competitive cost base. These combined factors make Montréal an ideal place to see Framestore grow," added Framestore co-founder and CEO Sir William Sargent in his own statement.
Photo: Québec Premier Pauline Marois and head of 3D Diarmid Harrison Murray at Framestore's London headquarters.