Weekly roundup: Conferences, indie distribution and VFX news
Among the briefs included this week are news on Heidi Tao Yang (pictured) being named producer of the Toronto Screenwriting Conference, Pacific Northwest Pictures' theatrical releases and Canadian Press distributing video content.
Here's a summary of news briefs items that have come to Playback over the last week.
Toronto Screenwriting Conference
Heidi Tao Yang (pictured) has been appointed the new conference producer for the fourth edition of the Toronto Screenwriting Conference, which will take place at Ryerson University's Ted Rogers School of Management on Apr. 6 and 7.
"In addition to the A-list talent and top screenwriters invited to attend, this year will see the expansion of practical workshops like 'Notes on Pilot X,' which gets to the core of the story and characters that all writers aspire to create," she said in a statement.
Tao Yang's industry experience includes work on feature film and television productions, and her credits include having gone through the Canadian Film Centre's Producer's Lab, receiving the Bell Media National Fellowship and being named one of the Trailblazers by the ReelWorld Film Festival.
Pacific Northwest Pictures
Vancouver-based indie prodco and distributor Pacific Northwest Pictures has unveiled details of is upcoming release schedule. It includes the platform release across Canada starting with an initial Toronto engagement on Friday (Jan. 25) of U.S.-made political thriller Knife Fight, starring Rob Lowe, Carrie-Anne Moss, Jamie Chung and Eric McCormack.
Pacific Northwest releases many films day and date with the Independent Film Channel, through a relationship with Santa Monica, Calif.-based Myriad Pictures.
In March it will release the American Film Forum award-winner Charlie Zone starting in Toronto and Halifax, with plans to platform out to other cities. Then later in 2013 it plans to release Jason Priestley's directorial debut film Cas & Dylan and All The Wrong Reasons starring Cory Monteith, Karine Vanesse, Emily Hampshire, and Kevin Zegers.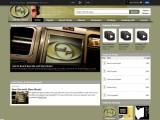 Music for Productions
Music for Productions, a Canadian supplier of music for all manner of screen productions, both entertainment and commercial, has launched a new website, one that will operate in tandem with its current site until that legacy site is closed down later this year.
The new site (pictured) is touted as being more innovatively designed, with a more user-friendly navigation and features approximately 28,000 tracks, due in part to the acquisition of several new catalogues.
"We are now in a position to compete with the big USA libraries out there," says Jean Anfossi owner of MFP, in a statement.
On the Road
Montreal post-house Oblique FX has released details of its work on On the Road,
the Walter Salles's adaptation of the Jack Kerouac novel that received its theatrical release earlier in January.
The facility delivered 110 shots in all, including matte painting and historical clean-ups to help bring to life 1950s America and also overcame the posting challenges inherent to the production having used hand-held cameras on 2-perf 35 mm stock.
Canadian Press distribution
The Canadian Press, the national news-gathering and content-distribution organization, has added third-party video content to its product offering through new partnerships. The partnerships are with TC Media, publisher of a variety of French and English magazine titles, including The Hockey News, Canadian Living and Style at Home, and TSN's Motoring and Vitamin Daily.
The partnership covers licensing and distribution of videos made by these brands for use by newspapers, websites and mobile platforms.