MTV launching daily series MTV Showtown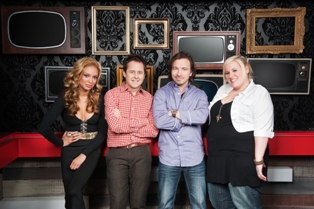 Following MTV Canada's move from the Masonic Temple to Bell Media's Queen Street digs in downtown Toronto, the specialty channel is refreshing its brand, starting with the launch of new flagship daily series MTV Showtown.
The late-night comedy talk series will be led by comedian Graham Chittenden, with continuing MTV hosts Nicole Holness, Paul Lemieux and Sheena Snively.
"Irreverent, funny, smart and accessible, MTV Showtown is MTV's nightly connection to the discussion of the day," said Bell Media's VP and GM of music and entertainment Neil Staite, in a statement.
The series will air Monday through Thursday at 11 p.m. starting Feb. 5.
Talk series 1 Girl 5 Gays changes host hands, with Degrassi star Lauren Collins taking over for Aliya-Jasmine Sovani. Collins will host her debut episode Feb. 22, following Sovani's final episode on Feb. 15.
Sovani will continue to report on MTV News and, according to a release from Bell Media, will host her own new series, currently in development, later in the year.
A "rejuvenated and reenergized" weekly MTV News will premiere in a new timeslot on Tuesdays at  6 p.m. starting Feb. 5, featuring Sovani and Sharlene Chiu, with contributing producers Brian Gasparek and Sam Sutherland.
Movie Night, moving to Thursdays at 6:30 p.m., also gets a new host, with Matt Wells and producer Rich Wilkinson talking shop about film and related events.
And MTV Creeps, which features a panel of "creepers" who assess the online lives of people active on social media, premieres its second season Feb. 14 at 9:30 p.m.