Town Hall scheduled to discuss B.C. industry's future
Following the release of a government jobs plan that left out hard-hit film and TV workers, members of the province's industry have launched a campaign to argue for more competitive tax incentives.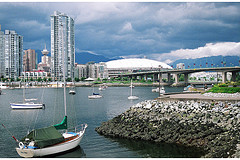 The B.C. film industry is undergoing a structural realignment in hopes of slowing down the migration of new projects to Ontario in response to tax credit differences offered by their provincial government.
"Film and television has consistently provided more than a billion dollars in production spending each year," said president of the Union of B.C. Performers Alvin Sanders in a statement last week. "However, the B.C. government has failed to recognize the significant multiplier effect which money invested in the film and television industry generates."
One of the main reasons projects are headed to Ontario is due to its greater tax credit. Officials say Ontario is already eight per cent cheaper than B.C. and by the time the provincial sales tax returns to the province in April, B.C. could be as much as ten per cent behind.
"We're facing the challenge of our tax credit being behind Ontario and Quebec, and that's having an impact on us," president of North Shore Studios Peter Leitch (who is also the chair of the Motion Picture Production Industry Association of British Columbia) told Playback Friday. "We think we have a fantastic product to offer here but it's challenging if you're not playing on a level playing field."

In Leitch's eyes, the province is failing to appreciate the number of jobs and other benefits of local production.
To that purpose, a so-called Town Hall has been organized and set to be held in Vancouver Tuesday. Additionally, an online petition, SaveBCFilm, has arisen in response to the recently announced B.C. Jobs Plan, arguing that the province isn't using the plan to offer competitive tax incentives.
The petition as of Monday has garnered just over 23,500 signatures.
"Ontario and Quebec have seen the wisdom of investing in this environmentally sustainable industry because they have seen the huge spin off benefits," Sanders added in his statement.
Altering the tax credit could be enough to see some of the film productions return to the province.
"We've got a great track record and history. Our customers love shooting in British Columbia so we just need to get a little closer in the tax credits," Leitch said.
It's one of the main options that will be discussed at the town hall, an event that promises to be an important gathering of the industry, according to Leitch.
"We want to engage them going forward to celebrate the accomplishments we've had in this industry so that we have an awareness of the importance of the industry amongst all politicians and the public so we can garner the support going forward," Leitch said. "It certainly doesn't work in our favour if we don't get the word out. Sometimes we're too conservative that way. We just went to celebrate our successes."