CBC's Julie Bristow on Hockey Night in Canada's return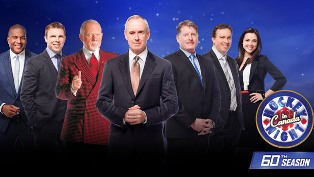 For the CBC's Julie Bristow, getting Hockey Night in Canada with live games back on air this weekend after a long-delayed start to the NHL season calls for getting a new broadcast team to reach out to viewers via social media.
"All of these guys and girls that have been constantly engaged on Twitter with their fans," Bristow, executive director of studio and unscripted programming at the CBC, told Playback ahead of this Saturday night's opening triple-header for HNIC.
As the 60th season of HNIC debuts after the end of the NHL's players lockout, the CBC has created a second screen experience sponsored by Budweiser on CBSsports.ca that allows viewers to interact with the game, the TV show and fellow fans countrywide.
And long-time HNIC host Ron MacLean will be joined at the anchor desk by Glenn Healy, P.J. Stock, Kevin Weekes, Elliotte Friedman with Andi Petrillo.
Bristow welcomed Petrillo as the first full-time female HNIC in-studio personality.
And Don Cherry will double-shift on the Saturday night broadcast, doing his Coaches Corner gig during the first intermission of both games, the first at 7 p.m. and the second at 10 p.m.
"Don Cherry is going to come into the late-night game. He's iconic," Bristow said of the return of the popular and often controversial hockey pundit.
There's relief at the CBC with the return of HNIC, which returns much-needed ad revenue to the pubcaster's coffers.
"Being able to celebrate hockey is back, we hope the viewers will tune in. The next couple of days is about getting the word about the schedule of events and the games," Bristow explained.
The return of the popular NHL double-header Saturday nights also gives the CBC a chance to promote the rest of its primetime schedule.
"Hockey gives us an opportunity to speak to a million viewers on a Saturday night. It definitely gives us a platform to attract audiences to the other programming we have," Bristow said.