Canadian Social TV top 3 – week of Jan. 6
Social TV is taking on a growing importance in the strategic thinking of every TV decision maker, even as its exact value remains fuzzy.
In a bid to help content creators get a better sense of how the Canadian social TV landscape is shaping up, Playback has partnered with Montreal-based social TV analysis company Seevibes to help put social media-related engagement into perspective.
Starting today, Playback will publish a weekly list of the top three Canadian-made TV programs according to Seevibes' number crunching and analysis (We asked Seevibes to exclude sports and news, since generally speaking they are peripheral to Playback's focus on independently-produced programming). Since the numbers aren't as intuitive as traditional TV ratings, we will also include some insights into the results, based upon observations provided to us by Seevibes (the methodology is briefly explained below.).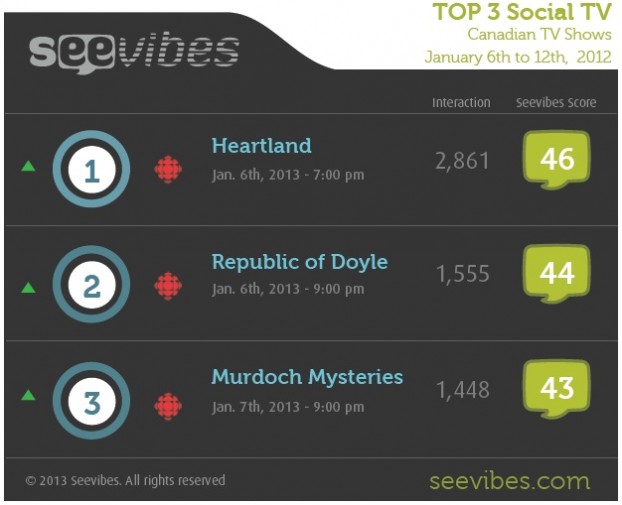 Being the first complete week after the holiday programming break, the week of Jan. 6 was generally a quiet period for social TV, since most social commenting on TV programming is tied to broadcasts of new series or new episodes.
But CBC's premiere week brought a flurry activity in the social TV sphere. Heartland, the week's top Canadian-made TV program, saw a notable spike in activity, with its midseason premiere drawing fans to their keyboards. Heartland has a well-established and active following, especially through its Facebook offerings, like the Heartland Ranch game app).
Meanwhile, the fans of The Republic of Doyle and Murdoch Mysteries also went online, sending #doyletweets and hash-tagging #MurdochMysteries to show their enthusiasm about the beginning of the fourth and sixth seasons, respectively.
Methodology:
Interaction is the number of all Facebook and Twitter activity (including retweets) about a show in English Canada during the 24 hours surrounding a program's initial air date (since that is when most social media activity occurs).
Seevibes Score is a number, on a composite index scale of 1 to 100, which provides an overview of the relative value of the social audience of a TV show.