CTV News reaps nominations on return to Canadian TV awards
The national news organization, which withdrew from the Geminis in 2006, tested the waters at the inaugural Canadian Screen Awards by submitting CTV News, but not local news, shows for consideration (Lisa LaFlamme on CTV National News pictured).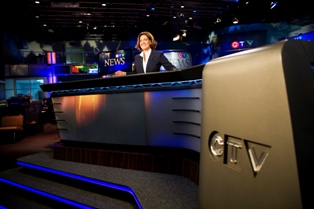 Among the stand-out nominations for the Canadian Screen Awards was CTV News, which returned to the kudosfest after withdrawing from the former Gemini Awards in 2006.
With the Academy of Canadian Cinema and Television replacing the Geminis and the Genies with the Canadian Screen Awards, CTV News has decided to put its toes back in the water for award consideration.
CTV News submitted CTV National News with Lisa LaFlamme and W5, and received in all eight nominations from the Academy juries.
That included CTV National News with Lisa LaFlamme competing for best national newscast  against perennial nominees CBC News: The National and Global News, and LaFlamme getting a nod for best news anchor.
And W5 was nominated for best news information series.
At the same time, as it tested the waters, CTV did not submit for local news this year, where the majority of Canadian news journalists work.
Showing its faith in the new awards format, CTV-parent Bell Media this year became the official lead partner of the Canadian Screen Awards, and watched Tuesday as it reaped its share of comedy and drama nominations, including 11 for Flashpoint.
The Canadian Screen Awards will be handed out on March 3.