Blog: 2013 off to bountiful start for scripted sector
Reports of the imminent death of linear TV appear greatly exaggerated as a wave of new scripted comedies and dramas show Canada's big broadcasters are still spending on marquee programs.
With the announcing of the inaugural Canadian Screen Award nominations Tuesday, Playback editor Matt Sylvain (pictured) takes a moment to ponder the fate of arguably the most important segment of the domestic screen industry: the scripted TV show.
If traditional Canadian network television is fighting an up-hill battle against the forces of change, of armies of cable cutters taking to on-demand, four-screen entertainment avenues at the expense of linear TV, it's putting up one hell of a fight.
In recent weeks alone there's been a spike in new scripted productions being announced, many of which were straight-to-series orders. They come in the wake of a strong 2012.
This is good news stories for multiple reasons, of course. The shows mean scriptwriters and crews across the country – in particular Toronto and Vancouver, many of whom have amassed considerable experience on U.S. projects – will be busy.
And, the indie production companies will have more product to bring to the international market for the all-important back-end sales.
Here's a brief recap: Last week, the first full business week of 2013, saw CTV order Played and Satisfaction. Played is a police procedural that is a follow up to now ended Flashpoint, if only in product-development terms if not outright program-content terms. Satisfaction is billed as a situational comedy.
Bell Media has also put much stake in the renewal of Saving Hope, and the upcoming premieres of Motive and Orphan Black.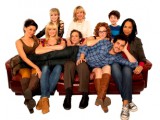 Meanwhile, Rogers Media has been keeping comedy script-writers' fingers to the keyboard, with orders of laughers Mother Up!, Seed (pictured) and Package Deal. All three feature high production values and many marquee talent, both in front of the camera and behind it.
Shaw Media's Global has been busy on the scripted front: to whit, the second run of mini-series Bomb Girls, and police procedurals Rookie Blue and Copper.
Meanwhile, the CBC is putting great stock in Cracked (pictured). Along with Arctic Air's second season and the perennial performers Heartland and Republic
of Doyle, among others, the CBC remains bullish on scripted programs despite the cutbacks it suffered last May.
French-language broadcasters are also keeping their money on scripted programming. For instance, Radio-Canada has seven scripted shows– Unité 9, Mémoires vives, 19-2, Les Parent, L'Auberge du chien noir, 30 vies, and Trauma on their winter schedule.
TVA has six scripted shows — O', Yamaska, Destinées, Rock et Rolland, Toute la vérité, Tranches de vie on their winter schedule.
While it may be premature to forecast that the industry has truly returned to its bountiful days seen before the recession took hold several years ago, it nevertheless foretells a busy, and hopefully profitable, year ahead for the entire industry.