Broadcasters under-funding western producers: Nordicity study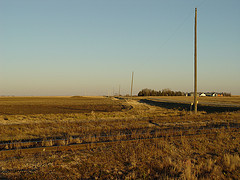 Western Canadian provinces are underfunded when it comes federal subsidy pools such as those provided by the CBC, Telefilm Canada and the National Film Board of Canada.
That's the finding of a Nordicity study commissioned by industry associations in Manitoba, Alberta and Saskatchewan.
The study's calculations suggest the three Prairie provinces are consistently "under-represented" when it comes to getting their fair share of coin from the CBC, the Canada Media Fund, the Canada Feature Film Fund and the NFB.
The outlier is all three western provinces remain "relatively well represented" when it comes to spending that flows through the Aboriginal Peoples Television Network.
"Despite the Prairie province's important role in the Canadian story, statistics suggest that public broadcasters and organizations continue to short change the region in terms of expenditures (ie. license fees) and funding," the Nordicity report argued.
The result for an industry dependent on public subsidies to drive production is "lower levels of production activity" in western Canada, excluding British Columbia.
Much depends on infrastructure and which foot-loose indie producers are shooting where: Saskatchewan actually performed better before SCN was sold off, and the province ditched its refundable tax credit.
And Alberta had a good run securing CBC funding in 2008-09 with series like Heartland and The Week the Women Went.
Indeed, much of the report compiles CAVCO and other industry data to specify where and when each province was "under-represented" or "over-represented."
The bottom line is the three western provinces – collectively represented by On Screen Manitoba, Alberta Media Production Industries Association and Saskatchewan Motion Picture Industry Association who commissioned the study – are more often than not being denied their share of industry funding.
"In recent years… film and television producers in the Prairie provinces have noted that production levels in the region are decreasing," the report stated.
"One potential contributing factor to this decline is the mounting difficulty of securing commissions from Canadian broadcasters," it continued.