How Jeremy LaLonde got Gordon Pinsent to be his sex therapist
Sometimes, all you need is word-of-mouth to find a good sex therapist.
That's how director Jeremy LaLonde brought veteran Canadian actor Gordon Pinsent on board his sophomore feature, Sex After Kids.
Pinsent plays a sex therapist in the ensemble indie film about "the coital adventures that come alongside parenthood."
Peter Keleghan, who is also Pinsent's son-in-law, stars in Sex After Kids as one-half of a former "it" couple surprised by their son's birth.
LaLonde recalls that after the first weekend of shooting, Keleghan mentioned that Pinsent was toying with some potential projects, and asked if he could pass LaLonde's name on (the answer was yes).
"Literally, the next day I was pushing my kid on the swing and my phone rang – and it was Gordon. He's the most humble man in the world, assuming that I have no idea who he is," LaLonde recalls, laughing.
The two then met, starting an on-going conversation discussing the projects they were respectively working on.
When the part in Sex After Kids came up, LaLonde had to ask.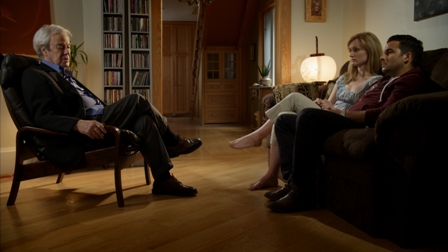 "So it kind of came down to [the fact that] Peter had a really good experience on the first day we were shooting with him, and it manifested from there," LaLonde says.
The performances by Pinsent and Keleghan have impressed some early on after the Santa Barbara International Film Festival earlier this week gave a world premiere slot to Sex After Kids during its upcoming Jan. 24 to Feb. 3, 2013 edition.
The road to Santa Barbara started last year, when LaLonde consulted with filmmaker and Sundance Institute feature film program manager of creative producing initiatives Rebecca Green, after Sex After Kids was chosen as IndieWire.com's project of the month in April.
"The one thing I wanted to talk about is festival strategy and distribution worldwide. This is my second film and it's the kind of thing I felt I hadn't learned enough about the first time around," says LaLonde.
Since multiple festival submissions require deep pockets, Green gave him tips on festivals to focus on.
"It was about, 'These are the festivals that can help you generate buzz – they're markets, or they're the kind of festivals that the bloggers go to,'" says LaLonde, adding that Green also advised him on distributors that would be a good match for his project, digital aggregators and online platforms.
And LaLonde acknowledges that digital is important for a film like Sex After Kids, considering its target audience – a demographic that has probably has kids and so might not get out of the house as often to see indie films. Delivering the film directly to the audience in their home screening room makes sense, he adds.
Nonetheless, LaLonde says he's aiming for a theatrical release in Canada, if only to qualify for certain awards here.
It's a long way to Santa Barbara from the film's inception. LaLonde raised $61,000 via an Indiegogo campaign (the rest of the production dollars were raised privately).
He also managed to snag an impressive Canadian acting contingent, including Kristin Booth, Ennis Esmer, Zoie Palmer, Mimi Kuzyk, Jay Brazeau and Kris Holden-Ried.
And shooting a film with an ensemble cast of 15 people, plus kids, wasn't without its challenges.
LaLonde shot the film last summer in approximately 15 days over three months.
"It's by no means ideal, but we're working on it with a pretty small budget and a lot of actors who have commitments otherwise – so for us the easiest way to do it was to do it in two-day, three-day, one-day chunks through the course of the summer when we knew we could get people, which is primarily weekends. Iti's a real ensemble, and so for the actors, the commitment level is four or five days at most. It's a side project from their regular gigs," he told Playback during the film shoot.
LaLonde says the Indiegogo campaign was integral to building an audience fan-base through the film shoot, a change from his first film, which he says was made "in a vacuum." Without a lot of marketing power behind it, he adds, the film "didn't make a whole lot of noise."
He spent a month researching successful crowd-funding campaigns before launching his own.
"One thing I saw that I wanted to mimic in ours was to make sure you constantly change the conversation. It's not just – hey, check out this video we did three weeks ago. We have 15 cast members, so I did a little interview with each of them – so for 15 days in a row, we had a different conversation," he says.
He also set mini-goals for the duration of the campaign, to create some pressure to get people to contribute at various levels early on. One of those goals was to raise $40,000 by a certain date. The payback for followers was that LaLonde and one of the film's stars, Zoie Palmer (Lost Girl) would dress up in chipmunk suits and participate in various hijinks at a local playground (it happened).
What LaLonde didn't expect, however, was the $8000 in contributions the campaign received on the same day the video was posted, including from people who had previously contributed.
"It just affirmed that people are excited. We had quite a few repeat contributors throughout, and I think it was because we kept posting new stuff. The conversation kept on revolving and changing," LaLonde insists.
Of snagging Pinsent, and of the film chugging along to the finish, LaLonde adds, "My philosophy, especially for this project has been, 'The world belongs to those who ask.' The worst case scearnio, someone says no, and your'e still in the same position you were in if you hadn't asked. It's a small Canadian project, and that's the only way to do it."
LaLonde is the writer, director and producer of Sex After Kids, with Jennifer Liao also producing, and Ryan Goldhar exec producing.
Photo of LaLonde by Kelly Kruschel