CBC acquires Everyone's Famous web series for broadcast
Andrew Bush, Walter Forsyth and Angus Swantee are shooting the hybrid comedy in Halifax, ahead of a February internet launch.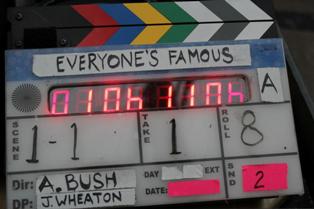 Halifax filmmaker Andrew Bush of Picnicface fame is headed back to TV.
Bush is joining up with Walter Forsyth (How to Be Alone) and Angus Swantee to shoot the comedy web series Everyone's Famous through this week.
And the seven-part online comedy, hitting the internet in February, will be broadcast by the CBC as a 45-minute TV special.
Everyone's Famous stars Ryan Beil, Kayla Lorette and Pat Thornton, with the ensemble cast to include Cory Bowles, Molly Dunsworth (Hobo with a Shotgun) and Kevin Kincaid.
The hybrid series follows 30 year-old Donald Tipper attaining internet fame after an embarrassing video of himself goes viral, and trying to repeat his success online as he pushes his love life, friends and sanity to the limit.
"We're targeting those viewers by incorporating elements of various video genres, but the heart of this story, a regular guy following his passion, will appeal to a wide audience," Angus Swantee said in a statement.
The Everyone's Famous project included a crowd sourcing financing pitch on Indiegogo.
The web series/CBC special drew financing from the Independent Production Fund and Film Nova Scotia.