Beyond the Black Rainbow, War Witch win at Vancouver critics awards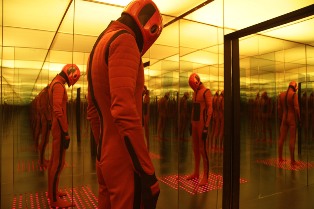 Kim Nguyen's War Witch and Panos Cosmatos' Beyond the Black Rainbow took home three awards each at the Vancouver Film Critics Circle Awards Monday night.
Nguyen's child soldier drama, also Canada's pick for the foreign language Oscar race, won top honours for best Canadian film. The film's star Rachel Mwanza won the award for best actress in a Canadian film, while Serge Kanyinda won for best supporting actor in a Canadian film.
And Cosmatos took both the best director of a Canadian film and best B.C. film prizes for his feature film debut, a sci-fi thriller filmed in Vancouver. And Beyond the Black Rainbow star Michael Rogers won best actor in a Canadian film.
Other Canadian prize-winners include best supporting actress in a Canadian film Sarah Gadon for her role in Cosmopolis, and best Canadian documentary The World Before Her, directed by Nisha Pahuja.
On the international awards front, Katheryn Bigelow's Zero Dark Thirty dominated the Vancouver critics' awards, winning best film, best director, best screenplay for Mark Boal, and best actress for star Jessica Chastain.
And for Paul Thomas Anderson's The Master, Joaquin Phoenix took the prize for best actor, and Philip Seymour Hoffman and Amy Adams took twin supporting actor and actress statues.
Elsewhere, Holy Motors was named best foreign language film, while Searching for Sugar Man was named best documentary.
In other prize-giving, long-time Vancouver International Film Festival director Alan Franey received the Ian Caddell Award for Achievement for his contributions to the  B.C. film industry.