CBC shows off social TV apps for winter 2013 schedule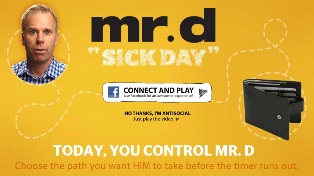 The CBC is putting money and marketing muscle into social media apps to drum up second screen viewers for its winter 2013 TV schedule.
The pubcaster on Friday showcased its Republic of Doyle Ride Along web and social media app with added story content, which is produced by CBC, with Take the Shot Productions and The Konrad Group.
There's also a social TV app, Mr. D: Sick Day, that allows users to choose their own adventure around the CBC sitcom.
Mr. D: Sick Day is produced by the CBC, with Topsail Entertainment, tech from Interlude, and CMF financing.
Also backing the CBC's latest marketing push for Arctic Air is a documentary series showing viewers how the series is made, and a cross-platform extension that adds a plotline running parallel to the TV narrative.
Arctic Air Season 2 Interactive is produced by the CBC, Omnifilm Entertainment and Switch United, with CMF financing.
And the debut of Cracked will be backed by a website and social media components that offer interactive case files to goose interest in the crime drama.
Cracked: The Psych Crimes Unit Case Files is produced by the CBC and White Pine Pictures, with CMF coin.
Elsewhere, Smokebomb Entertainment is behind Murdoch Mysteries: Nightmare on Queen Street, a transmedia co-production with the CBC and Shaftesbury, which produced the sixth season of the period drama.
And the pubcaster has expanded its successful social game experience, Heartland Ranch, for its Sunday night series Heartland.
Two new mini-games – which are more action-oriented, according to the pubcaster – are modeled after real equestrian events: barrel racing and show jumping.
Heartland Ranch is produced by the CBC, OverInteractive Media and Seven24 Films, with support from the Bell Broadcast and New Media Fund.