Syfy fills Monday night with Canadian series
From Jan. 14, the U.S. channel will air Continuum (pictured), Being Human and Lost Girl back-to-back from 8 p.m. to 11 p.m.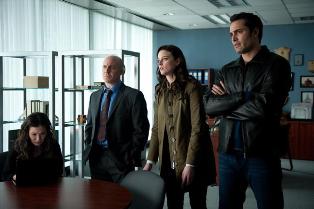 The U.S. Syfy channel this winter will roll out a Powerful Mondays programming block filled with three Canadian-made series.
From Jan. 14, Syfy will debut at 8 p.m. Continuum from Reunion Pictures, and which also airs on Showcase, followed by the third season returns of Being Human at 9 p.m. and Lost Girl at 10 p.m.
Continuum stars Rachel Nichols (Criminal Minds, Alias) as a cop from the future who finds herself trapped in the present day.
Being Human, from Muse Entertainment stars Sam Witwer, Meaghan Rath and Sam Huntington as three paranormal roommates trying to hold onto the remnants of their human lives.
The series also airs on Space in Canada.
And Prodigy Pictures' Lost Girl stars Anna Silk as a succubus named Bo.
Syfy has long had an appetite for Canadian-made or shot sci-fi series after acquiring Battlestar Galactica, Caprica, Haven, Sanctuary and Stargate:SG1 for its schedule.