Exclusive: Reforming Academy adds union reps as advisors
The Academy of Canadian Cinema and Television adds to its newly-created national advisory council ahead of the Canadian Screen Awards.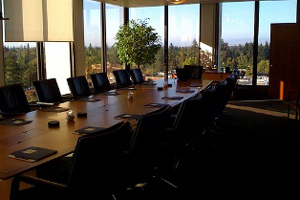 Union and guild representatives have joined the Academy of Canadian Cinema and Television's newly-created national advisory council.
The latest advisors to the Academy's Toronto-based board of directors includes Krista Hurdon, operations manager at International Alliance of the Theatrical Stage Employees' Canadian office, and actor Theresa Tova, representing ACTRA.
Bolstering the national advisory council comes as the Academy continues to overhaul its internal organization as it gives Canada's film and TV awards a high-gloss makeover.
Also joining the national advisory council is director Kari Skogland for the Directors Guild of Canada, Richard Speer, chair of the Academy's Quebec board of directors, and Writers Guild of Canada rep Denis McGrath.
The Academy's inaugural Canadian Screen Awards, replacing the former Gemini and Genie awards, will be handed out on March 3 in Toronto as part of a six-day showcase of Canadian film, TV and digital media.