CRTC gives OK to CJNT-TV sale to Rogers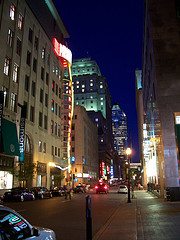 Rogers Media is extending a $10.6 million Citytv footprint into the Montreal market.
The CRTC on Thursday approved Rogers Media's application to acquire Channel Zero's CJNT-TV, an ethnic television station in the city, and make it a local Citytv channel.
It also separately approved the creation of a new Montreal multi-lingual television station, to be called International Channel/Canal International (ICI).
The move to launch Citytv Montreal is the latest in Rogers extending Citytv's presence country-wide, after launching Citytv Saskatchewan in July and sealing an affiliate deal with the Jim Pattison Group in western Canada.
"The launch of Citytv Montreal is a crucial step in our overall strategy to deliver our premium original and acquired content to a national audience, and we are pleased that the CRTC recognizes Citytv's commitment to local programming in Montreal," said Rogers Media broadcast president Scott Moore in a statement.
The company applied to take over ownership of the CJNT station and convert it to a local Citytv outlet in June.
The decision follows CRTC chair Jean Pierre Blais taking a pro-consumer stance in urging Rogers Media in a November public hearing that the transaction should have to provide "benefits to Canadians as citizens, creators and consumers, as well as to the overall Canadian broadcasting system."
Rogers Media in its application requested a broadcasting licence to operate CJNT as an English-language conventional TV station, arguing that operating it as an ethnic station under its current licence conditions is not viable in the Montreal market.
It further argued that to remain competitive, extending Citytv as an OTA presence in Montreal would be a step towards national coverage.
Rogers proposed it would produce 15.5 hours of original local programming, including a morning show targeted to the Montreal community to air from 6 a.m. to 9 a.m. The company also proposed a weekly half-hour sports program dedicated to local professional, amateur, university, CEGEP and junior league sports in Quebec's largest urban market.
The regulator ruled Thursday that a local Citytv station would increase diversity of voices in the market and have an positive impact on the greater broadcasting system nationally.
It said that Rogers' proposed morning program would provide programming for the city's English-language minority community that currently doesn't exist.
According to a release from Rogers, local in-house productions will add at least 20 production jobs. It added that Citytv Montreal will also air original and acquired programming, including its primetime series like Modern Family, 2 Broke Girls and How I Met Your Mother. The schedule's homegrown fare will include Cityline and upcoming original comedies Seed and Package Deal
The regulator considered the applications from Rogers and ICI conjointly, noting that they could be complementary, in that ICI was looking to serve ethnic communities that CJNT at the time served.
ICI and Rogers too both acknowledged potential "synergies" between their respective services, including sharing news gathering resources and personnel, and acquiring programming from each other.
The newly-approved ICI will provide programming in at least 15 different languages, including Romanian, Mandarin, Creole, Persian and Portuguese. The Montreal channel will devote 14 hours per week to local ethnic programs.
As part of the tangible benefits package from the Rogers-CJNT transaction, Rogers proposed that the benefits be directed to ICI to support the channel during its first licence term.
So $10.6 million will be allocated to ICI over five years.
"These two television services will increase the diversity of voices in the Montreal region. The English-language community as well as over 18 ethnic communities will benefit from these two services," said Blais.