Guidestones racks up web TV award noms
Jason Leaver's Out With Dad also received a nod for best ensemble performance (Guidestones pictured).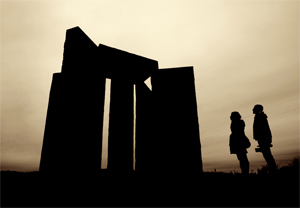 Canadian web series Guidestones has been nominated for a slew of International Academy of Web Television awards, including a nod for Jay Ferguson for best directing (drama) and best cinematography.
Supinder Wraich also received a nomination for best female performance (drama), and Anthony Baird and Thomas Smalley are nominated for best editing. The iThentic- and 3′o'clock.tv-produced interactive web series was also tapped for best supplemental content.
The series is produced by Jonas Diamond and Jay Ferguson.
Meanwhile, Out With Dad, written, produced and directed by Jason Leaver, and produced by Eric Taylor and Kara Dymond, was nominated for best ensemble performance. The series, a quirky drama about a teenage girl (coming of age and coming out of the closet) and her single father, stars Will Conlon and Kate Conway as father and daughter, respectively.
And the webcast We Day Winnipeg 2011, held at the MTS Centre in Winnipeg, was nominated for best live event.
The awards, to be handed out in 33 categories, will be presented on Jan. 8 during the 2013 International CES in Las Vegas.