Cracked, Arctic Air topline CBC's primetime winter sked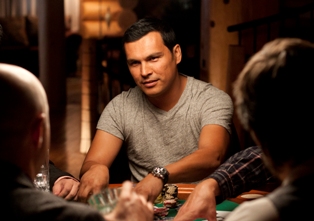 A showcase of returning hits and a few new kids on the block looks to be the CBC's recipe for primetime success, as the pubcaster unveiled its winter schedule Tuesday morning.
The one missing piece in the lineup remains new NHL hockey games with the owners and NHLPA continuing their lockout. Alan Dark, general manager, CBC revenue group, tells Playback he expects skates to hit the ice for the new season on Dec. 1, adding this week of talks is key to making that timeline happen.
"We have  been doing a ton of planning on a big launch around hockey for Dec. 1, " says Dark. "That date has been moved around a few times but this one I am holding onto. If the new season goes off Dec. 1 we will have hockey through to the end of April and then the playoffs will start [then] rather than at the start of the month when they would normally be played."
If the NHL season doesn't start at the beginning of December, Dark says there are alternate contingency plans in place with theHockey Night in Canada: Your Pick classic games programming ending after its eight week slate of fan-picked games concludes.
Off the ice, the winter schedule is led by new hour-long cop procedural drama Cracked on Tuesdays, and returning hit Arctic Air on Wednesday nights.
Cracked, created by screenwriter Tracey Forbes and producer-cop Calum deHartog and produced by Toronto-based White Pine Pictures, will premiere Tuesday, Jan. 8 at 9 p.m. The series stars David Sutcliffe (Gilmore Girls) as a seasoned detective dealing with post-traumatic stress disorder and a new partner, a psychiatrist played by Stefanie von Pfetten.
And Adam Beach-starring Arctic Air returns for its second season on Wednesdays at 9 p.m. (starting Jan. 9).
The adventure drama, created by Ian Weir and produced by Vancouver-based Omni Film Productions, follows a maverick Yellowknife airline and the extended family of the people who run it.
Republic of Doyle moves to Sundays, premiering for its fourth season on Sunday, Jan. 6 at 9 p.m., following Dragons' Den, which airs at 8 p.m. (starting Jan. 6).
Last season's breakout comedy hit Mr. D will air Mondays at 8 p.m. (starting Jan. 7), followed by The Ron James Show at 8:30 p.m. (also starting Jan. 7).
Murdoch Mysteries will air its sixth season on Mondays at 9 p.m. (starting Jan. 7). The first five seasons of the Shaftesbury-produced period mystery series aired on Citytv. The CBC announced last year that it would continue the series for a sixth season, and aired an encore of season five during the fall season.
There's also feature-length doc March to the Top, a multi-platform project that follows 12 wounded Canadian soldiers as they train and climb the 20,305 ft. high Himalayan summit Island Peak. The 90-minute doc was commissioned by documentary and CBC.
Online, the March to the Top interactive website includes a blog and Facebook and Twitter accounts for viewers to follow the story, in addition to additional content being made available on CBC-TV and CBC Radio One.
March to the Top is produced by Montreal-based Muse Entertainment and Ottawa-based Canadian Adventure Productions, headed by director Ben Webster. The doc airs Wednesday, Jan. 30 at 8 p.m.
The pubcaster's afternoon sked has a new face, with daily food show Best Recipes Ever bringing Christine Tizzard on board as its new host.
Also returning to the daily lineup are Steven and Chris, In the Kitchen with Stefano Faita, The Lang & O'Leary Exchange, George Stroumbolopolous Tonight, The Rick Mercer Report, Marketplace, the fifth estate, The Nature of Things and Heartland.
With files from Val Maloney